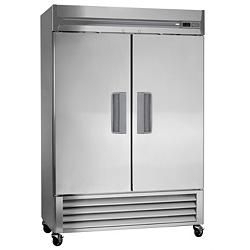 St. Paul, MN (PRWEB) October 25, 2010
Superior Products is announcing their latest offering - the Value-Line of reach-in refrigeration. The Value-Line offers the quality that customers expect from Superior Products, at highly competitive prices.
These reach-in refrigeration units are quality engineered for entry to medium duty applications. For a restaurant or foodservice startup, the Value-Line represents an affordable point of entry into the expensive kitchen equipment market. Encompassing all the sought after features and benefits of higher end offerings, this new line helps protect the bottom line while increasing a restaurant's refrigerated storage capabilities.
New operations can purchase their equipment from the Value-Line and avoid unnecessary expenditure on larger, more elaborate pieces until the need for such equipment arises.
To see the full selection of units available, view the Value-Line refrigeration selection at Superior Products.
Sign up for the Superior Products newsletter and mail catalog to stay on top of all the latest deals and news.
Superior Products is a commercial kitchen equipment supplier that offers solutions that deliver efficiency and value. As a trusted industry leader since 1935, our in-depth product knowledge makes our professionals valuable business partners.
# # #