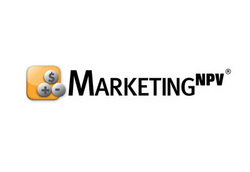 This installment will take a close look at measuring social media marketing, and discuss what techniques are working and (more importantly) which aren't.
Princeton, NJ (PRWEB) October 26, 2010
MarketingNPV and the American Marketing Association announce the 11th installment in their webcast series featuring some of today's leading business school professors and thought leaders on measuring marketing and improving the return on marketing investments. Pete Fader, Professor of Marketing, Co-Director, Wharton Interactive Media Initiative, Wharton School of Business, University of Pennsylvania and Jim Sterne, Founding President & Current Chairman, Web Analytics Association will present Measuring and Improving the Value of Social Media on November 5, 2010.
The Meeting of the Minds webcast series, features marketing measurement thought leaders and faculty from top business schools throughout the world sharing their experience from the boardroom and the classroom about how marketers can better demonstrate the value marketing creates for shareholders. In this installment, the two will take a close look at social media marketing, and discuss what techniques are working and (more importantly) which aren't.
This free webcast will take place on November 5, 2010. Join the thousands of marketers around the world participating in these online events. For more information and to register for this and other webcasts in the series, please visit Meeting of the Minds.
MarketingNPV is a highly specialized advisory firm that links marketing expenditures to financial value creation, providing continuous improvement in the effective and efficient allocation of marketing resources. The firm uses processes and tools tuned to measure the payback on marketing investments, track the right marketing metrics, and forecast the economic impact of changes in marketing strategy or tactics. MarketingNPV maintains the world's largest online archive of articles and resources focusing on measuring marketing, and publishes MarketingNPV Journal quarterly.
Contact:
Tina Anagnostis
(609) 688-0606
# # #