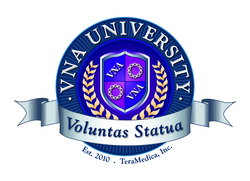 "TeraMedica relishes our role as thought, solution and service leaders in the industry and is excited to provide this University for the imaging community," said TeraMedica CEO, Jim Prekop.
Milwaukee, WI (PRWEB) October 24, 2010
As the founders of the Vendor Neutral Archive space, our latest revolutionary virtual educational concept was developed to address an overwhelming market demand for a single source of truth. "This exceptional educational offering is a reflection of the socially responsible culture of TeraMedica, directly driven by customer request. We are proud to deliver this collaborative, non-biased source of relevant industry knowledge, from modality to meaningful use. Embracing the ethos of TeraMedica, VNA University offers a neutral environment, encompassing the multiple perspectives and viewpoints of industry leaders across the globe," said Jim Prekop, CEO of TeraMedica. Added Prekop: "TeraMedica relishes our role as thought, solution and service leaders in the industry and is excited to provide this University for the imaging community."
"VNA University is a unique way to assist customers and other interested parties, presenting them the most up-to-date industry information in the atmosphere of Fear-Uncertainty-Doubt (FUD) presently in the marketplace. This impartial environment fills a void in VNA education, taking the learner beyond DICOM, towards meaningful use (ARRA) and other global health information initiatives. VNA University is powered by a comprehensive social networking ecosystem. Our offering is merely the first step in this unparalleled recognition of the needs for flexible customer-built, patient-centered solutions in the new world of personalized medicine," said TeraMedica Vice President of Global Strategy and Marketing, Paul Markham.
Building on today's social networking community, VNA University will serve as a virtual place of learning for the A-Z of healthcare and imaging informatics. "We at TeraMedica recognize that our customer's time is extremely valuable, and want to deliver this clinical education opportunity in a way that is most convenient – in an online setting," commented Louis Halperin, TeraMedica's Director of Healthcare Solutions.
As a testament to being the industry VNA leader, the motto of this university will be voluntas statua, which translates as "meaningful imaging". TeraMedica is cognizant of the movement toward personalized medicine and desires to be part of the complete solution for healthcare.
Those who enroll at VNA University can take classes and seminars at their own pace, which will feature a comprehensive range of topics, such as neutral archives, IHE, and meaningful use. Members of the VNA University will learn from industry experts and receive many other benefits by enrolling at RSNA 2010, November 28th – December 2nd in Chicago.
To learn about these benefits, RSNA 2010 attendees are invited to stop by TeraMedica's booth to enroll. TeraMedica will be located in the South Hall of Chicago's McCormick Place, Booth #2901. By participating in the VNA University, members can enhance their career and become a sought-after, valuable resource.
About TeraMedica
Based in the Milwaukee County Research Park, TeraMedica provides the most comprehensive vendor neutral architecture solutions available in healthcare today. TeraMedica's clinical enterprise suite, Evercore®, delivers patient–centric, image management software across 24 specialties. The patented Smartstore™ module intelligently manages the total image lifecycle of DICOM and beyond. The Univision™ module provides a multi-layer, zero-download image viewer, with seamless integration to any EMR/EHR/PHR/RHIO. TeraMedica's vendor-independent platform connects multiple PACS to any storage system, thus ending cumbersome data migration.
Keywords – Vendor Neutral Archive, Vendor Neutral Architecture, TeraMedica, Evercore®, Evercore – Smartstore, Smartstore™, clinical enterprise suite, healthcare technology, PACS, DICOM, clinical image management, VNA, VNA University, healthcare, enterprise, RSNA 2010, meaningful use, professors, university, college, virtual university. Facebook, Twitter, LinkedIn.
# # #