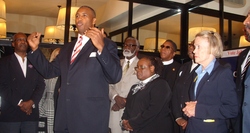 New York, NY (PRWEB) October 22, 2010
Congressional candidate Michel Faulkner (R-15th District) will be joined by a large assembly of religious and community leaders to reinforce his call for the protection of marriage and to denounce recent attempts to redefine the institution at both the state and federal levels.
Andrew Cuomo and Charlie Rangel are conspiring to force millions of New Yorkers to accept something that is against their values. Mr. Cuomo is leading an aggressive effort at the state-level to undermine the institution of marriage, and Charlie Rangel is working at the federal level by co-sponsoring a measure that would repeal the Defense of Marriage Act.
This event will showcase community outcry against these efforts and support Michel Faulkner's commitment to preserve traditional marriage.
WHO:
Congressional Candidate Michel Faulkner (R – 15th District)
Bishop Nathaniel Snipes
Bishop Calixto Rodriguez, CONLICO
Rev Dr. Hector A Cheisa, CONLICO
Rev Dr. Kittin Silva, CONLICO
Rev Obed Vazquez, Concolio Rehoboth
Rev Domingo Vazquez, Helping Hands Ministry
Chaplain Al Bonilla, United Chaplains State of NY
Rev Dr. John Scott, Empire Baptist Missionary Convention
Other religious and community leaders
WHAT:
Press Conference
WHEN:
Monday, October 25, 2010
10:00 am
WHERE:
City Hall steps
250 Broadway
CONTACT:
Josh Hills, NLO Strategies
518-421-6116
Josh(at)jdhills(dot)com / hills_jd(at)yahoo(dot)com
###