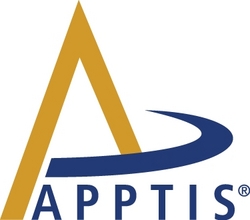 We're pleased to be working with Apptis to help federal agencies leverage Amazon Web Services to run their technology infrastructure at a fraction of the cost of owning and managing it themselves
Chantilly, VA (PRWEB) October 25, 2010
Apptis, Inc., a leading provider of essential IT and communications services to key Defense and Civilian agencies, today announced it has been awarded a Blanket Purchase Agreement (BPA) contract from the General Services Administration (GSA) to provide cloud computing Infrastructure as a Service (IaaS). Under the agreement, Apptis will leverage Amazon Web Services LLC (AWS) to provide technology infrastructure that enables government end users to procure highly reliable, highly scalable, and cost-efficient technology resources, on demand via GSA's cloud computing storefront, Apps.gov.
"We're pleased to be working with Apptis to help federal agencies leverage Amazon Web Services to run their technology infrastructure at a fraction of the cost of owning and managing it themselves," said Terry Wise, Director of Business Development, Amazon Web Services. "Now that Apptis has been awarded a BPA from the GSA, any government agency can reap the benefits of the cloud – including the ability to add or shed resources as needed, paying only for resources used and freeing up scarce engineering resources from running technology infrastructure - all without sacrificing operational performance, reliability, or security."
Apptis worked with AWS, an industry leader in the cloud computing marketplace, for this contract. Since early 2006, AWS has provided companies of all sizes with infrastructure platform and services in the cloud. Apptis developed a portal, FedCloud.com, to meet the security and reporting requirements of this BPA. The easy-to-use FedCloud.com management portal permits authorized users to securely provision, terminate, monitor, and aggregate financial reporting of BPA services across an agency or department, provides Section 508 compliance, and limits user choices to those within the scope of government security accredited boundaries.
FedCloud.com will be submitted to GSA for Assessment and Authorization (A&A) at the Moderate Impact Level. Subsequent to the GSA A&A, Apptis intends to apply for government-wide Federal Risk and Authorization Management Program (FedRAMP) joint authorization to also demonstrate Department of Defense Mission Assurance Category II (MAC II) requirements for availability and integrity.
"Amazon Web Services provides IT infrastructure in the cloud that can enable greater performance and resilience," said Bert Notini, Chairman and CEO of Apptis. "AWS has helped enterprises in the private sector drive down costs and increase efficiency in the operations of their IT infrastructure. IaaS with FedRAMP is a tremendous example of new approaches the government is taking to eliminate duplication of effort, realize cost savings, and enable rapid acquisition by leveraging pre-authorized solutions. We are excited to be supporting the GSA in their cloud computing initiative and to be providing AWS to federal agencies."
About Apptis
Leveraging strong domain expertise and advancements in technology, Apptis has enabled vital IT and communications solutions for federal agencies for over 20 years. Apptis delivers proven, trusted, and secure IT solutions for mission-aligned measurable results. Ranked among InformationWeek 500 Technology Innovators, Apptis is pioneering Cloud Computing solutions to transform the industry, the workplace, and enterprise operations. Beyond Cloud Computing, the company's robust capabilities include Software & System Engineering, Enterprise Management, Network Engineering, Information Assurance, and Program Management. Our accomplished IT professionals deliver strategic IT and communications services around the world anytime, anywhere. Through client retention and tactical growth, today Apptis employs over 1,200 professionals in 37 states and 10 countries. Apptis is privately held with headquarters in Chantilly, VA. http://www.apptis.com
# # #