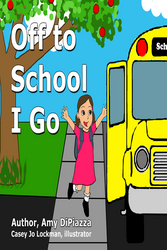 Middleville, MI (Vocus) October 23, 2010
Off to School I Go, a new book by Amy DiPiazza, illustrated by Casey Jo Lockman, has been released by RoseDog Books.
It is tough to have to go to school every day during the week as a first grader. It is hard to have to go to bed early, wake up early, and leave your mommy. Haven thinks that homework and studying isn't very fun. But then she begins to see that once you study really hard, you earn good grades and pass the hard spelling tests. Haven realizes that school is fun and so is riding the bus and recess time. She has fun with her teacher and her friends. Haven even gets to do really exciting things in gym class like climb the rope and run. She realizes school isn't so bad after all! As a matter of fact, she likes it and she actually has a story to tell.
Amy DiPiazza is blessed with a wonderful husband and four amazing children, who have inspired her to write about them through a children's book. Her family means the world to her. Having children has opened her eyes to a world of inspiration. Her family has given her many ideas for several more books to come. If you believe and work really hard, dreams will come true, as she tells each of her children.
By the grace of God, DiPiazza has words to tell and stories to share. Kids have wonderful ideas, and each child is different in their own way. Embrace them, as they will be your vision throughout life. As a wife, a mother, a sister, an aunt, and a daughter, she is proud to share her stories.
Off to School I Go is a 30-page paperback with a retail price of $16.00. The ISBN is 978-1-4349-8098-4. It was published by RoseDog Books of Pittsburgh, Pennsylvania. For more information or to request a review copy, please visit our virtual pressroom at http://www.rosedog.com/pressroom or our online bookstore at http://www.rosedogbookstore.com.
###