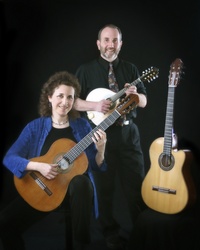 Southbury, CT (PRWEB) October 24, 2010
Pomperaug Woods, a lifecare retirement community in Southbury, CT, invites the community to attend an afternoon concert with guitarists, Judy Handler and Mark Levesque on Monday, November 1.
Handler & Levesque have given over 1,000 performances throughout the Northeast and Midwest. Their distinctive style is the result of their diverse backgrounds and many years of experience.
Judy received a Master of Music in guitar at the Hartt School of Music as well as certificates from programs in Spain and Italy. She has performed throughout the U.S. and is founder of the Connecticut Classical Guitar Society.
Mark performs on the guitar and mandolin in popular duos, trios, quartets and big bands. He plays and arranges jazz, blues, Latin and international music. Mark also has worked with synthesizer orchestration and studio recording.
Please call 203-262-6555 ext. 111 today to reserve your complimentary ticket because seating is limited for this special performance.
About Pomperaug Woods
Pomperaug Woods is the first and only not-for-profit lifecare retirement community in the Tribury area offering consistent ownership and management. Located on 22 acres in Southbury, Pomperaug Woods offers those age 65+ a financially secure living option. The community offers residence options ranging from studios to two-bedroom apartment homes. Residents enjoy a warm neighborhood atmosphere, convenient amenities, family-friendly staff, and the peace of mind that comes from living in a financially secure community with stable management and consistent leadership. (http://www.PomperaugWoods.com)
About Life Care Services, LLC
Pomperaug Woods is managed by Life Care Services LLC, of Des Moines, Iowa, a leader in senior care and housing. With nearly four decades of experience in senior living community development and management, today LCS serves over 23,000 residents daily in more than 80 senior living communities nationwide. (http://www.LCSnet.com)
###