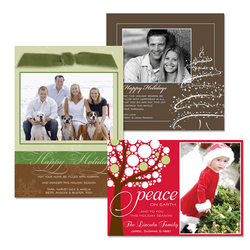 One of the things we focus on when choosing holiday cards is to offer variety. Whether you celebrate Thanksgiving, Hanukkah, Christmas or simply the holiday season, there's something for everyone
Cary, NC (Vocus) October 23, 2010
Sending a holiday letter or greeting card seems to be a thing of the past as technology is constantly expanding. Keeping in touch with family, friends, co-workers and associates by email, Facebook, text message or BBM has become a part of everyday life where mentality states that everything must be instantaneous or it's not worthwhile. Can you remember the last time receiving a letter from a friend in the mail? Though it was most likely long ago, one may remember the excitement you felt when the letter you saw was not a bill or an advertisement, but was actually a kind gesture from a friend purely interested in your well-being. The team at InvitationBox.com wants to help its customers rediscover the beauty of sending holiday cards and Christmas photo cards by unveiling its 2010 collection.
One of the newest trends this holiday season is actually an old trend re-born...sending holiday cards to family, friends or associates by mail. One wouldn't think that sending a holiday greeting card would make such a difference in someone's day, however with the stress over the state of the economy along with the hustle and bustle of everyday life, times are hard for the majority of people and the small things can be what matter most. Now is the time to reconnect with family, friends and business associates to rebuild relationships and reconnect with one another.
InvitationBox.com is proud to unveil its 2010 line of holiday greeting cards, holiday photo cards and Christmas cards to help people keep in touch with those important to them during the festive holiday season. With over 1000 designs to choose from, InvitationBox.com has a different design for whatever holiday is celebrated or whatever holiday message needs to be relayed to friends, family, co-workers or customers. "One of the things we focus on when choosing holiday cards is to offer variety. Whether you celebrate Thanksgiving, Hanukkah, Christmas or simply the holiday season, there's something for everyone," says Jon La Nasa, CEO of InvitationBox.com.
One of the most popular types of holiday greeting cards for families this holiday season are digital holiday photo cards. These holiday cards feature a digital photograph printed directly into the design of the card, which eliminates the need to print hundreds of photographs and then attach them all with double sided tape. Digital photograph holiday cards can allow for multiple photographs along with a family update or holiday greeting. Each digital photo holiday card has a unique holiday theme or hue which compliments the festive time of year. InvitationBox.com offers a photo upload feature on the website so that customers can preview the photograph on the chosen greeting card prior to ordering to ensure they have chosen the best picture to match the card design. The photo design center also allows customer to change the orientation of the photo, the color of the photo as well as crop the photo to size.
For those customers who prefer a more conventional holiday card, InvitationBox.com has improved upon it's industry leading collection of traditional holiday cards to send to family, neighbors and friends which will remind the recipient of the spirit of Christmas. From personal cards which feature traditional holiday icons, (wreaths, holiday swags, snowmen, reindeer, ornaments), to cards with outdoor photographs or scenes all the way to religious holiday cards which focus on nativity scenes, angelic scenes and scripture which focus on Christianity.
Corporate customers who want to extend a holiday greeting to clients, employees or network associates have a plethora of options for corporate holiday cards inside InvitationBox.com's holiday card collection. From business appreciation cards to greeting cards that focus on encouraging teamwork or client relations, the corporate holiday card collection allows a business to connect with clients during the holidays. It's a great way to promote a business as well as increase customer relations or thank employees for their hard work and dedication over the past calendar year. For corporate customers whom have international clients, or customers from different religious or holiday backgrounds, InvitationBox.com even offers a unique global and international collection of holiday greeting cards which focuses on peace, hope and relations around the world, rather than a specific religion-specific holiday.
InvitationBox.com offers a website which allows one to easily shop online from the comfort of home with a variety of holiday card options that one won't likely find in a local holiday stationery shop. As you prepare for the holiday season ahead, take time to personalize a holiday greeting card to reach out to the most important people in one's life.
About the Company:
InvitationBox.com is a family-owned and operated business which was created in 2003 off of a strong background in e-commerce and a passion for stationery. InvitationBox.com offers one of the internet's widest selections of high-quality, quick-turnaround, trendy party invitations, birth announcements, greeting cards, stationery and collegiate gift items which make any milestone memorable. Featuring over 12,000 items, InvitationBox.com offers a variety of products from brands you know and trust like Inviting Company, Noteworthy Collections, Paper So Pretty, Picture Perfect, SanLori Designs, William Arthur and more. Visit them online at InvitationBox.com or at their showroom in Cary, North Carolina.
# # #