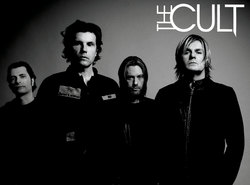 "We are stepping away from the conventional system. By including new music, live music and film, we are giving our fans the opportunity to own other creative visions." - Ian Astbury, The Cult
Los Angeles, CA (PRWEB) October 26, 2010
Legendary rock band The Cult prepares to release new music on November 16th via innovative music capsules, heralding a new era of music delivery that will impact the way we hear music for years to come. Capsule 2: New Blood Deep Cuts features new songs "Embers" and "Until The Light Takes Us," live recordings of some of the band's huge hits and an intimate look into The Cult's rehearsal space, with a never before seen warm-up performance of "Black Angel." Rather than revisit the traditional method of releasing a long form CD, the band is pioneering a new way of providing material. Capsules span multiple media formats including vinyl, digital, USB, CD and DVD formats, and can be purchased at: http://cultcapsulestore.com.
Frontman Ian Astbury explains, "We are stepping away from the conventional system. By including new music, live music and film, we are giving our fans the opportunity to own other creative visions. The Capsule is a way of delivering music in bites, quicker and fresher than in the context of an album format."
Capsule 2: New Blood Deep Cuts' lead track, "Embers," will be available exclusively on iTunes beginning November 1st for 2 weeks, while iTunes' exciting new music-oriented social network site called Ping boasts an exclusive On Demand preview streaming of "Embers, the "Black Angel" rehearsal film and new band photos. For an advanced taste of "Embers": http://aderra.net/Embers_Preview.html.
On the heels of their wildly successful Love Live Tour celebrating their 1985 groundbreaking album, The Cult announces a new run of U.S. dates on their L'America Tour kicking off October 28th in Chicago. UK dates begin January 18, 2011 in Leeds. Fans are afforded the unique opportunity of leaving the venue each night after a Cult concert with a full recording of the show on a USB flash drive - to relive each incendiary moment.
The Cult is Ian Astbury (vocals), Billy Duffy (guitar), Chris Wyse (bass), John Tempesta (drums) and Mike Dimkich (rhythm guitar), who worked with producer Chris Goss (Queens of the Stone Age, Unkle) to bring the new capsule recordings to life.
"Our latest recordings are a mixture of violent guitars, emotive vocal performances with high melody and driving beats," offers Astbury. "Textured metaphysical rock music for the contemporary music head."
The Cult U.S. 2010 Tour Dates:
10/28 Chicago, IL @Vic Theatre
10/29 Buffalo, NY @The Town Ballroom
10/30 Sayreville, NJ @Starland Ballroom
10/31 Worcester, MA @The Palladium
11/2 Baltimore, MD @Rams Head Live!
11/3 Hartford, CT @Webster Theatre
11/5 Munhall, PA @Carnegie Mellon University
11/6 Atlantic City, NJ @House of Blues
11/8 St. Petersburg, FL @Jannus Live
11/9 Melbourne, FL @Levelz Night Club
11/10 Orlando, FL @Hard Rock Live
11/12 Atlanta, GA @The Tabernacle
11/13 Charlotte, NC @Fillmore Charlotte
11/14 Raleigh, NC @Lincoln Theatre
11/15 Cleveland, OH @House of Blues
11/17 Grand Rapids, MI @The Orbit Room
11/18 South Bend, IN @Club Fever
11/19 Detroit, MI @The Fillmore Detroit
11/20 Milwuakee, WI @The Rave
The Cult UK 2011 Tour Dates:
1/18 O2 Academy Leeds
1/19 O2 Academy Bristol
1/21 HMV Hammersmith Apollo
1/22 Cambridge Corn Exchange
1/23 O2 Academy Bournemouth
1/24 Nottingham Rock City
1/26 Wolves Civic Hall
1/27 O2 Academy Newcastle
1/29 O2 Academy Glasgow
1/30 Manchester Academy
http://www.thecult.us
http://www.cultcapsulestore.com
http://www.facebook.com/officialcult
http://www.twitter.com/the_cult_
http://www.myspace.com/thecult
For further information, contact Renee Harrison at Publicity Please:
queenrenee(at)hotmail(dot)com / 323-798-5129
# # #