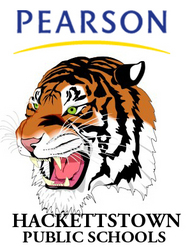 New York (PRWEB) October 25, 2010
"One day I observed our kindergarten and first-grade students leaving the computer lab. Their chins were up in the air; they're looking at their parents dead in the eye with big smiles on their faces and with their chests all puffed up. They felt proud of themselves, and they felt special." That's how Hackettstown Public Schools' Superintendent Robert Gratz describes the results of his rural New Jersey district's initiative to accelerate student learning through the power of digital programs.
What began as a pilot program four years ago with only a few students working with SuccessMaker and Waterford Early Learning, interactive digital learning programs from the education and technology company Pearson, has blossomed into an active commitment to data-driven, personalized learning for all students in Hackettstown's elementary and middle schools.
In fact, Hackettstown students now supplement their daily classroom instruction with time spent on SuccessMaker and Waterford Early Learning 3-5 times per week, with each session lasting 15-20 minutes. Also, many students return after school to further learning during the district's Talent Identification Growth & Enrichment through Resource Sharing (TI-GERS) program.
Assistant Superintendent Diane Pittenger and Gratz have spearheaded this growth after seeing significant improvement in student scores. Third- and fourth-grade students at Hackettstown's Hatchery Hill and Willow Grove Elementary Schools exceeded district factor group (DFG), which is a comparison of student performance on statewide assessments across demographically similar school districts, and New Jersey state levels of proficiency in all tested categories of language arts/literacy, mathematics, and science, grade 4. Many students at both schools scored advanced proficient in mathematics, and some students achieved perfect scores of 300.
Hackettstown's most at-risk students, including the district's large English language learner (ELL) population, are seeing gains too. Bill Thompson, an elementary principal in Hackettstown said, "With SuccessMaker, ELL students can work on a program where they have headphones, and they hear the spoken language in English. They see the word in print on the computer screen along with the graphics. It helps them to make connections to the English language, as well as develop their vocabulary."
Both SuccessMaker and Waterford Early Learning personalize the educational experience of each child by assessing students throughout their interactivity with the program.
Marie Griffin, principal at Hackettstown Middle School, believes personalization of instruction is key, saying, "For a teacher, one of the hardest things is having a class of 25 students and trying to differentiate for each and every one of them. But, these programs do just that. Our teachers enhance that learning, but it does individualize and meet every student on their own level and then moves them through the program at their own speed."
And to top it all off, the programs' embedded assessments gather vital data points that local teachers can use to guide further instruction. "Our principals are talking with our teachers on a regular basis regarding student performance and success, using the data from SuccessMaker and Waterford to drive the conversation. There is no more powerful discussion than the one about helping a child learn, with data that demonstrates what the student is learning and not learning, and then having your teacher use that data to shape instruction," said Gratz.
Thanks to Hackettstown's great success, Pittenger said that the district hopes to expand the
TI-GERS program and provide access to SuccessMaker and Waterford for members of the community struggling to learn English when funding permits.
SuccessMaker is a standards-aligned educational software product for grades K-8 that provides research-based instruction. Waterford Early Learning builds early foundations in reading, math, and science for learners from Pre K-2 through a digital curriculum aligned to current state and national standards.
Waterford Early Learning and SuccessMaker qualify for federal funding under the American Recovery and Reinvestment Act and can be purchased with Title I, 21st Century, Title III, Title V, the Individuals with Disabilities Education Act (IDEA), Enhancing Education Through Technology (EETT), School Improvement Grants and Investing in Innovation (i3) funds. More information can be found online at http://www.pearsonschool.com/digital.
More information about Hackettstown Public School District and the TI-GERS Program can be found at http://www.hackettstown.org.
About Pearson
Pearson (NYSE:PSO), the global leader in education services, technology and school solutions, provides innovative print and digital education materials for preK through college, student information systems and learning management systems, teacher professional development, career certification programs, and testing and assessment products that set the standard for the industry. Pearson's other primary businesses include the Financial Times Group and the Penguin Group. For more information about Pearson, go to http://www.pearsoned.com. For more information about Pearson Digital, visit http://www.pearsonschool.com/digital.
Media Contact:
Kate Miller, kate(dot)miller(at)pearson(dot)com or (800) 745-8489
Stacy Skelly, stacy(dot)skelly(at)pearson(dot)com or (800) 745-8489
# # #