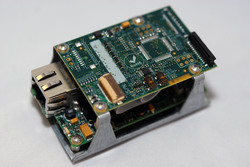 The market has been pushing Pleora to create a GigE Vision solution for the camera block for some time
(PRWEB) October 24, 2010
Pleora Technologies, a world leader in networked video connectivity solutions for mission-critical systems, will premiere its iPORT™ SB-Pro IP engines—the latest offering in its rich solution-set for high-performance video over Ethernet—at the VISION 2010 trade fair in Stuttgart, Germany.
Pleora's iPORT SB-Pro IP engines enable camera blocks from Sony to be transformed into GigE Vision® compliant cameras. By leveraging the open GigE Vision and GenICam™ standards for communications over a Gigabit Ethernet link, iPORT SB-Pro IP engines increase interoperability between products from different manufacturers, while dramatically lowering system cost and complexity.
"The market has been pushing Pleora to create a GigE Vision solution for the camera block for some time," says Pleora's Rob Lee, Vice President, Marketing and Sales. "With the iPORT SB-Pro, we are not only providing a reliable and easy-to-integrate GigE Vision solution, but we have also presented the Sony® VISCA™ protocol over Ethernet in the industry-standard GenICam interface. This reduces system complexity because it allows for video and camera control over a single cable."
The compact iPORT SB-Pro IP engines transmit high-definition video with low, predictable latency. Complete with extensive feature control using GenICam, this product is ideal for system integrators looking to differentiate their offerings, increase interoperability and introduce networking capabilities.
Compatible with Pleora's vDisplay™ video receivers and eBUS™ SDK, the iPORT SB-Pro IP engines enable the Sony family of block cameras—including the newest HD models—to become part of a networked video connectivity solution.
About Pleora
Pleora Technologies Inc. pioneered the use of Gigabit Ethernet for real-time video connectivity and revolutionized industrial imaging. With this spirit of innovation, Pleora engineers networked video connectivity solutions for mission-critical applications. Working with its rich portfolio of video networking elements, Pleora partners with customers to tailor solutions to their individual needs, from definition to deployment, with full integration support. Find out why more military, medical, and manufacturing integrators and OEMs choose—and stay—with Pleora, visit http://www.pleora.com.
VISION contact information:
Trade Fair Centre Stuttgart (Airport)
Stuttgart, Germany
November 9-11, 2010
Hall 4, Stand E 72
Media contact:
Julie Harrison
Corporate Communications
Pleora Technologies Inc.
Tel: +1-613-270-0625, ext 164
Julie(dot)harrison(at)pleora(dot)com
iPORT, vDisplay, and eBUS are trademarks of Pleora Technologies Inc. Other product or technology names may be trademarks of their respective companies and organizations.
# # #