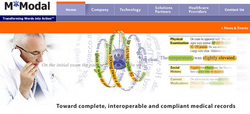 The addition of the Physician Dictation Module is in direct response to requests from our users
Pittsburgh, PA (Vocus) October 24, 2010
Net Health Systems, Inc., has partnered with M*Modal to incorporate its Speech Understanding™ technology into the WoundExpert software, giving physicians the ability to dictate directly into WoundExpert's Electronic Medical Record (EMR).
Through this new Physician Dictation module, physicians speak directly into a microphone; the WoundExpert software captures and translates the recordings as an editable Physician Progress Note in real time. The text can then be changed if needed through voice commands spoken into the microphone, or entered through the WoundExpert software using the computer keyboard.
Incorporating M*Modal's speech recognition technology within WoundExpert offers physicians an alternative to the traditional point and click data entry method, historically used in the EMR software. This user‐friendly method of data input eliminates the need for a separate transcription service and eliminates the delay in finalizing patient documentation common with traditional dictation services.
M*Modal's Speech Understanding platform blends advanced speech recognition and natural language understanding technologies to convert narrative dictation to structured data and meaningful clinical content that significantly enriches EHR systems. As a member of the Health Story Project, an alliance of healthcare vendors, providers and associations that is producing data standards for the flow of information between healthcare documents and EMR systems, M*Modal's technologies offer a pathway that allows clinicians to move toward EMR adoption and meet early Meaningful Use targets while retaining their preferred workflow.
Features of the Physician Dictation module include:

Centralized documentation within the patient's record
Seamless integration into WoundExpert documentation allowing faster, more efficient creation of each patient's Progress Note
Potential cost savings using the WoundExpert Dictation component as compared to other outsourced dictation and medical transcription services
Security and recovery enhancements
Macros utilization
Voice-driven, interactive editing
Remote playback capability
"The addition of the Physician Dictation Module is in direct response to requests from our users," explained Patrick Colletti, president of Net Health. "By partnering with M*Modal, we've developed a solution for physicians that streamlines their workflow - allowing physicians to focus more on patient care, resulting in more time spent with patients and ultimately, improved outcomes."
"We are pleased to work with Net Health Systems to offer our technology to the more than 14,000 WoundExpert users," noted Michael Finke, CEO of M*Modal. "Our companies share the vision of making technology fit doctors' workflow rather than the other way around."
About Net Health Systems, Inc.
Net Health is the leading provider of clinical information systems in the rapidly growing field of chronic wound care. WoundExpert®, the company's flagship offering, is an integrated clinical, financial, and regulatory software system for wound management. Over 14,000 physicians, clinicians, and healthcare professionals across the U.S. use these software solutions in more than 750 facilities spanning the wound care continuum to improve patient care and facility performance. Headquartered in Pittsburgh, Net Health's mission continues to be validated through consistent recognition as one of the fastest growing companies in the U.S. and best places to work in Pennsylvania. For more information, visit http://www.woundexpert.com.
About M*Modal
M*Modal, the market leader in advanced Speech Understanding technology, combines industry leading technology and clinical documentation services to produce highly accurate, structured, encoded and shareable medical documents to facilitate the adoptability and meaningful use of electronic health records. More than 800 healthcare organizations nationwide utilize M*Modal's solutions to increase patient safety and promote continuity of patient care. For more information, please visit http://www.mmodal.com
Company Contacts:
Lindsey Lowrie
M*Modal Technologies
412.422.2002 ext. 222
lindsey(dot)lowrie(at)mmodal(dot)com
Betsy Martinelli
Net Health Systems, Inc.
800.411.6281 ext. 524
bmartinelli(at)woundexpert(dot)com
# # #