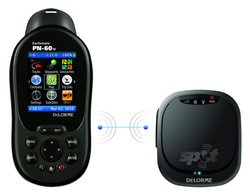 We have reason to believe this product will be one of the top tech gift items this holiday season. We look forward to working with Seth Wescott to help spread the word.
Yarmouth, ME (PRWEB) October 27, 2010
DeLorme, the innovation leader in GPS and mapping technology, is pleased to announce its entry into a corporate partnership with World Champion and Gold Medal snowboarder Seth Wescott.
DeLorme will be featuring Wescott in conjunction with the company's rollout of the Earthmate PN-60w with SPOT Satellite Communicator.
This unique product pairing comprises the world's first handheld GPS capable of sending custom text messages using SPOT satellite technology. Ideal for anyone from outdoors enthusiasts to international relief workers, it introduces a revolutionary new way to communicate from remote locations beyond the reach of cell phone coverage.
"We were thrilled when this product received a prestigious Popular Mechanics 2010 Breakthrough Award earlier this month," said Caleb Mason, DeLorme Vice President. "We have reason to believe it will be one of the top tech gift items this holiday season. We look forward to working with Seth Wescott to help spread the word."
Among the plans for Wescott include his appearance as part of Team DeLorme at the upcoming 2011 Consumer Electronics Show, where he will discuss the many benefits of leading a healthy and active lifestyle and share his experiences as an outdoors enthusiast who uses a variety of technology. Wescott will also appear in a new DeLorme print advertising campaign scheduled for early 2011.
About DeLorme
DeLorme is the longtime leader in innovative mapping and GPS solutions for both consumer and professional markets. The company's Earthmate PN-Series GPS receivers feature rugged, waterproof designs and provide a wide array of DeLorme topographic and street maps, plus aerial imagery and nautical charts. The company's business and government solutions include a variety of World and North America mapping datasets and XMap GIS software tools. Located in Yarmouth, Maine, DeLorme is home to Eartha™, the world's largest rotating and revolving globe.
About Seth Wescott
Wescott is one of the most accomplished and decorated athletes in snowboarding history having reached the podium in every major snowboard cross event in the world. Wescott, a four-time U.S. National Champion, nine-time Winter X Games medalist, and three-time World Championships medalist, is an ambassador for "Take it Outside," a state-wide initiative in Maine to encourage children and families to reconnect with nature, and also serves as a spokesperson for "WinterKids," a program established to encourage and help young people be active, and enjoy all that winter sports have to offer in Maine. Most recently, Wescott has partnered with several other world-class athletes in support of the "Level Field Fund," a grant making program that bridges gaps in funding for uniquely talented athletes in need of financial assistance. The Maine native resides and trains at Sugarloaf Mountain in Carrabassett Valley.
###