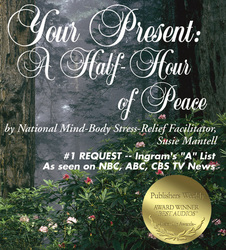 "Susie Mantell's voice surrounds nerve endings like salve. Don't ask how. It just does. Here's help for back pain, headaches, sleeplessness -- you name it!" -Rocky Mountain News
Chappaqua, NY (PRWEB) October 26, 2010
This holiday season, families and businesses need to spend wisely on both personal and business gifts. "These days, pretty much everyone on your holiday gift list is dealing with a degree of stress," observes Dan Bradford of Relaxintuit.com. "So when it comes to holiday gift ideas, the soothing, award-winning 'Your Present: A Half-Hour of Peace,' by stress management expert Susie Mantell is the uniquely thoughtful, (affordable!) 'present' everyone on your various gift lists will be thrilled to receive!" Like an easy chair, Mantell's warm narration gently supports, soothing worry from sleepless nights, releasing layer-after-layer of tension. Bradford continues, "Just think -- How many people do you know who'd love to experience soothing stress relief and deep, peaceful sleep?"
In Susie Mantell's work customizing stress relief for clients including Verizon, Citibank, Remington, Oncology and ER departments, National Cancer Survivors Day and renowned Canyon Ranch Health Resorts, participants invariably request relaxation techniques to relieve day-to-day stress, tension, and enhance sleep. Mantell's 'Your Present: A Half-Hour of Peace,' is the uniquely soothing, critically acclaimed relaxation meditation CD that creates an oasis from a stressful schedule, or the prelude to deep, restful sleep everyone longs for. Exquisitely packaged for gift giving, each copy bears the embossed gold seal of Publishers Weekly's 'Best Audios' Award. Even the CD inside is elegantly screened in silver. Quality presentation, and the relaxation of a spa vacation -- for just $14.95!
Why Reduce Stress Now? (and ...How?)
"Simply put, stress is a signal that something needs to change -- the healthy response of the body-mind," explains stress management expert/author Susie Mantell. "Mother Nature has hard-wired us with a very clever stress response, including reserves for a crisis. But when the alarm is sounded excessively, the system becomes 'stressed' beyond capacity. We become more vulnerable to illness, accidents, forgetfulness, depression." Mantell continues, "The 2010 overdraft on our Peace-of-Mind accounts, personally and professionally, results in a society often exhausted by insomnia, anxiety, tension and -- a little cranky." Meditation is a highly effective technique recommended by physicians to release stress, reduce blood pressure, back pain, enhance sleep, and support inner balance. But these days, who has time to begin studying meditation?
Soothing (Instant!) Relaxation Meditation:'Your Present: A Half-Hour of Peace'
Delivering quick, simple, effective relaxation, Susie Mantell's audiobook best seller requires no previous training. The soothing guided imagery meditation relaxes listeners the very first time. "Superb relaxation narration, well-made," says John D. Loeser, MD of The American Pain Society, professor of neurosurgery and anesthesiology. "Within each of us there's a place that knows perfect peace," explains Mantell. " 'Your Present: A Half-Hour of Peace,' allows the body-mind to pause, release, re-balancing in the open space."
How is This Relaxation CD Different? (see awards)
Clinically approved for stress symptoms associated with anxiety, depression, long-term illness, chronic pain and PTSD, listeners include The Mayo Clinic, Memorial Sloan-Kettering, The Betty Ford Center, VA hospitals and top spas. Relaxintuit.com 's Vivian Badagliacca explains, "Everyone fondly recalls just who gave them, 'Your Present: A Half-Hour of Peace.' Men and women of all ages, even stressed-out students, discover soothing relief again and again. Tired of arriving with the same wine or generic gift? Just tie a ribbon around the beautifully packaged, 'Your Present: A Half-Hour of Peace,' and you've got a truly thoughtful gift, a super stocking stuffer, teacher gift, or addition to corporate gift baskets!"
The Perfect Personal & Business Gift -- Just a Click Away!
Internet shopping is one great way to reduce holiday stress. The other is 'Your Present: A Half-Hour of Peace.' Citibank VP, Ann Mitrione agrees, "Not only did you relieve our stress, but taught us ways to manage stress on our own." Feeling more strung out than the lights on a Christmas tree? Burning out like a Hanukkah candle? Relaxintuit.com's Bradford suggests, "Stress is everywhere these days. Wise managers understand that any business's bottom line directly relates to the physical and emotional well-being of its employees. In fact, so many listeners return to Relaxintuit.com to order more copies of, 'Your Present: A Half-Hour of Peace' that we make the holiday season stress-free for shoppers too! Buy 5, Get 1 More FREE! Buy 10, Get 12, etc."
Awards - Honors - Testimonials: (More Attached)
"Best Audios Award"- Publishers Weekly
"Good As It Gets" issue –Town & Country
"Terrific corporate gift!" -Remington
"Superb" –The American Pain Society
"The absolute Best!" –Canyon Ranch Living Essentials
"Highly Recommended" –Navy-Marine Corps Relief Society
The Coca-Cola Company appointed Susie Mantell to their 4-person Dasani Wellness Team
OrdersRelaxintuit.com -- Holiday Gift Special: Buy 5 Get 6! [Buy 10 Get 12, etc.]
ISBN 978-09650724-10 Pub: Relax Intuit™ LLC ($14.95 U.S).
Enjoy Free Stress Management Tips by Susie Mantell at Relaxintuit.com
###