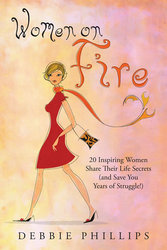 Further proof women are eager to read success stories and inspiration as a way to take charge of their lives in a recessionary time
West Tisbury, MA (PRWEB) October 26, 2010
Debbie Phillips and Women on Fire announce the book, Women on Fire: 20 Inspiring Women Share Their Life Secrets (and Save You Years of Struggle!), won the 2010 Indie Excellence Award® for best non-fiction anthology.
"It's a huge honor to win this award," Phillips remarked. "To me, this is further proof women are eager to read success stories and inspiration as a way to take charge of their lives in a recessionary time."
The book is a heart-stirring and heartwarming anthology of stories written by 20 courageous and powerful women who faced real-life challenges and successfully moved through them to become authentic Women on Fire.
Each woman shares the details of a seemingly insurmountable obstacle and describes how she summoned the strength to overcome it and emerge stronger, healthier, happier, and more deeply fulfilled. The most important part of their message is that other women can do the same!
"With the economic downturn, we hear women needing solid strategies and quality support, whether they are starting a business, going through a major transition, or looking for their next opportunity," said Phillips. "However, despite the economic situation, women everywhere need to continue to invest in themselves. And, many of the book's subjects reveal how they did that."
About National Indie Excellence Awards
The National Indie Excellence Awards (NIEA) recognizes excellence in independent- and self-published books, a category that accounts for a rapidly growing segment of a publishing industry going through almost constant transformation. The awards are the equivalent for books as Sundance is to independent films.
About Women On Fire
Women on Fire is an organization of dynamic, authentic women whose members support each other in achieving successful and meaningful lives. The goal of Women on Fire is connect these women to each other and to help provide inspiration, strategies and support for them to live more extraordinary lives.
About Debbie Phillips
Pioneering life and executive coach Debbie Phillips, a former journalist and Governor's press secretary, whose inspiring columns have been featured at ABCNews.com, started Women on Fire in 2003 after working with hundreds of clients to successfully achieve rewarding and fulfilling lives and careers. Her dream was to connect her phenomenal clients to each other so they could share what they were "on fire" about. And, the "blaze" caught fire and the circle of women has expanded into a national organization.
Website:
http://www.DebbiePhillips.com
http://www.BeAWomanOnFire.com
# # #