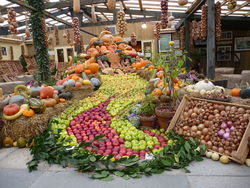 The Annual Heligan Harvest Display is a yearly experience for all the senses, as the fruits of Heligan's productive year are presented in the annual display.
(PRWeb UK) October 24, 2010
The Annual Heligan Harvest Display has opened for 2010 at The Lost Gardens of Heligan. The event is a yearly experience for all the senses as the fruits of Heligan's productive year are presented in the annual display. A variety of art and wildlife activities are also on offer during the Harvest Display, encouraging visitors to creatively engage with the natural beauty of the season and reflect on the importance of the surrounding natural world.
HELIGAN HARVEST DISPLAY
Saturday 23rd October – Sunday 31st October 10am – 5pm
The fruition of the gardening year, Heligan's outstanding and varied range of produce is harvested and lovingly arranged in spectacular displays, by the Heligan team. Pumpkins, squashes, gourds, onions, shallots, kiwis, figs, grapes, apples, aubergines, peppers, quince, leeks, artichokes, chillies, root vegetables, cut flowers, honey as well as charcoal and timber products are just some of the ingredients that combine to create this stunning visual feast.
With over 15 varieties of pumpkins and 75 different types of vegetable, the Heligan Harvest Display is one simply not to be missed.
DRAWING IN THE HELIGAN HARVEST
Saturday 23rd – Sunday 24th October 10am – 4pm
'The Big Draw', now in its eleventh year, is an inclusive celebration of drawing that embraces 1000 venues and a half a million people across the UK every October; aiming to help widen the country's passion for drawing, helping people express their imagination and creativity and overcoming the "I can't draw" barrier.
Heligan's theme for the event "Drawing in the Heligan Harvest" compliments the seasonal gardening activities and the annual Harvest display, achieving a unique collaboration between nature at its finest and communication through creativity. Visitors are free to bring their own equipment although art materials will be available for a small donation. All ages are welcome and under 16s must be accompanied by an adult. Free admission to the Big Draw desk, normal garden admission charges apply.
WILD HARVEST FOOD WALKS
Wednesday 27th October 1.30pm and 3pm
Wild food forager Rachel Lambert, will be offering Wild Harvest Food Walks at The Lost Gardens and explaining how to identify wild plants for culinary and medicinal use. Rachel has been identifying and foraging for wild food since 1996, and started leading walks in 2007. Whether you are an experienced forager or a complete beginner, a food-lover, or nature enthusiast there will be something for everyone during these Wild Harvest Food Walks as participants discover the abundance of wild food growing locally and develop skills and confidence to forage on their own.
Throughout Heligan Harvest there is free admission to the big draw desk, Heligan Harvest display, tearoom, shot & plant sales
For further information about becoming a Friend of Heligan visit http://www.heligan.com
For further PR information, pictures, or press trips
Contact: Simon Whittam @ Onshore Media
on: 01752 823414 or 078 0241 6420
Email: simonwhittam(at)weareonshore(dot)com
###