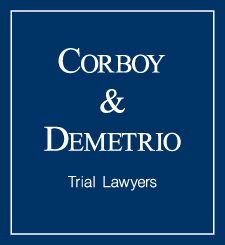 Chicago, IL (Vocus) October 24, 2010
Thomas Demetrio, nationally renowned Chicago personal injury trial lawyer, was named yesterday "Chicago Best Lawyers Medical Malpractice Lawyer of the Year" for 2011, by the oldest and most respected peer-review publication in the legal profession.
After more than a quarter of a century in publication, Best Lawyers is designating "Lawyers of the Year" in high-profile legal specialties in large legal communities. Only a single lawyer in each specialty in each community is being honored as the "Lawyer of the Year."
Best Lawyers compiles its lists of outstanding attorneys by conducting exhaustive peer-review surveys in which thousands of leading lawyers confidentially evaluate their professional peers. The current, 17th edition of The Best Lawyers in America (2011), is based on more than 3.1 million detailed evaluations of lawyers by other lawyers. Tom has been listed in the publication since its inception in 1987.
Tom received particularly high ratings in The Best Lawyers in America surveys by earning a high level of respect among his peers for his abilities, professionalism, and integrity.
Steven Naifeh, President of Best Lawyers, says, "We continue to believe – as we have believed for more than 25 years – that recognition by one's peers is the most meaningful form of praise in the legal profession. We would like to congratulate Tom on being selected as the 'Chicago Best Lawyers Medical Malpractice Lawyer of the Year' for 2011."
To consult with Attorney Demetrio or any other lawyer at our Chicago personal injury law firm, call 312.346.3191. We are available 24 hours a day, 7 days a week.
Further firm information can be found on the Corboy and Demetrio LinkedIn firm profile.
About Corboy & Demetrio
Corboy & Demetrio is one of the nation's premier law firms. It represents individuals and their families in serious personal injury and wrongful death cases arising out of airplane and railroad disasters, failed products, medical negligence and a host of other catastrophic events. Corboy & Demetrio is renowned for its achievements in the courtroom and for its contributions to the community. The rights and concerns of its clients are at the core of Corboy & Demetrio's practice. That commitment, dedication, compassion and relentless drive has resulted in exceptional service and exceptional results for its clients. The firm has acquired more than $3 billion in settlements and verdicts, of which nearly 600 were in excess of $1 million.
# # #