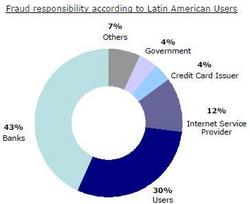 We recommend to financial institutions to provide users with additional security measures that are accompanied with education. This will boost confidence and increase the use of electronic channels." Ricardo Villadiego, Regional Director, Americas
Fort Lauderdale, FL (PRWEB) October 26, 2010
Easy Solutions, the only security company focused exclusively on electronic fraud prevention and detection, released the results of the study "Vision of Latin American Consumers against Electronic Fraud." The report provides a reference point for Latin American financial institutions regarding security and fraud prevention in electronic channels such as online, mobile, automatic teller machines (ATMs) and interactive voice response systems (IVRs).
The study is part of ongoing research activities by Easy Solutions in technology and consumer issues to combat online fraud. The survey was conducted between July and August 2010, with users of online transactions in the Andean Region (Colombia), Central America and Caribbean (Panama, Costa Rica and Dominican Republic), Mexico, Southern Cone (Chile and Argentina) and Brazil.
The research had the objectives of determining the awareness, opinions and attitudes of users of electronic transactions on security and fraud threats. The study was also designed to understand consumer opinions of what they can do to protect themselves as well as what banks and electronic service providers should do.
The study results were analyzed by the global consulting firm Frost & Sullivan in the white paper "Key IT Anti-Fraud Challenges for Banking & Financial Institutions in Latin America." The findings show that Latin American consumers are highly concerned about online fraud but are not aware of the threats affecting them. This low electronic threat awareness results in minimal use levels of protective solutions against fraud methods such as Phishing and Pharming.
Consumers think that their banks and electronic service providers are the responsible parties for their security. Moreover, consumers expect the financial institutions to implement robust authentication methods as well as to monitor their transactions to detect suspicious actions. Consumers are not willing to pay money for these additional security methods.
Strong authentication methods beyond the second key, challenge question, and security image are poorly understood. More than half of the users of passwords sent via Short Message Service (SMS), security images, and one-time password (OTP) tokens do not trust these methods.
Consumers who were victims of fraud changed their online behavior; many consequently changed banks or even left online banking completely.
"With the results of this study, our recommendation to banks and financial institutions is to provide users with additional security measures that are accompanied with education. This will not only mitigate the economic losses from fraud, but also will boost confidence and increase the use of electronic channels, "concludes Ricardo Villadiego, Regional Director for the Americas of Easy Solutions.
Key Statistics:

59% of online bank users prefer this channel when compared to offices, ATMs, and IVRs.
95% of the respondents are aware of computer viruses, but only 36% are aware of Phishing via email. 26% are aware of Pharming.
59% do not believe that transaction or purchases over the Internet are safer today than they were a year ago.
27% of victims of fraud have stopped online banking transactions, and 7% have changed banks.
47% of users consider banks or credit card providers to be primarily responsible for the security of electronic transactions.
95% believe that banks should implement stronger authentication methods. 90% expect banks to monitor their transactions and to detect suspicious activities.
47% of respondents in Latin America are not ready to pay for stronger security methods.
55% of users of authentication passwords sent by SMS, 32% of users of OTP tokens, and 31% of users of grid cards do not trust these methods.
The complete white paper can be found at: Key IT Anti-Fraud Challenges for Banking and Financial Institutions in Latin America
Spanish version
To learn more about Phishing, Pharming and other types of electronic fraud and how to protect your business, please visit: http://www.easysol.net.
ABOUT EASY SOLUTIONS:
Establish in 2002 with headquarters in Sunrise, Florida, Easy Solutions in the only security provider focused exclusively on fraud prevention. Easy Solutions provides anti-Phishing and anti-Pharming services and research, multi-factor authentication and anomaly transaction detection.
Easy Solutions delivers a comprehensive and proactive approach to fraud prevention and works in alliance with industry leaders in other security disciplines supporting a wide range of heterogeneous platforms.
###