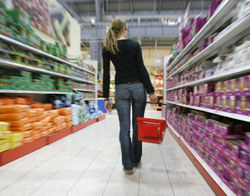 With variable digital printing and smart systems integration, there's a new way for CPG companies to produce custom packaging...down to neighborhood store level...and in a continuous process that eliminates production line changeovers.
Glen Carbon, IL (PRWEB) October 26, 2010
Joe Hattrup, founder and president of FASTechnology Group, wants to revolutionize the way that shoppers select their purchases. The former Texas Instruments manager and his team envision a wide range of consumer packaged goods, from toys to tortillas, custom-packaged to fit the interests of individual shoppers, thereby increasing sales volume and frequency at local retail stores. As Hattrup describes it, retail-ready personalized packaging (RRPP) replaces the expensive short-runs that manufacturers have traditionally used to produce custom packaging with a more cost-efficient continuous process that yields products designed to capture consumer attention—and dollars—in the retail aisle.
In fact, RRPP is adapted from the industrial control systems used for years in the commercial printing industry to print, collate, bind, palletize, and distribute personalized catalogues, magazines, and other publications to millions of individual consumers nationwide. Hattrup founded FASTechnology Group (FTG) 20 years ago to help that industry meet the needs of publishers and manufacturers that wanted to reach consumers directly through micro-targeted print content. The company grew steadily as a systems integrator expert in process controls that enable variable printing, collation, and binding of individually-customized publications through production-line integration with customer databases.
"We knew that many commercial printers couldn't spend tens of millions of dollars to start from scratch in micro-targeted production, and that they shouldn't have to," says Hattrup. With that in mind, FTG engineered its variable digital printing and process control technology to deploy as an overlay onto an array of existing production lines. The result has delivered value to the mailboxes of millions of consumers every day.
With the spread of digital media and technology, Hattrup now sees the opportunity for CPG companies to connect on a direct and personal basis with consumers through RRPP technology. He points to the example of school sports in Texas, where he resides.
"What creates more passion in many parts of the country than high-school football?" Hattrup asks. "With variable digital printing and smart systems integration, there's a new way for CPG companies to produce custom packaging that connects with high-school football fans all the way down to neighborhood store level. It could be a regional snack food company, a brewery, or a dairy foods producer; but it all comes down to catching the eye and the heart of the shopper to spur purchase. And best of all, it can be done in a continuous process that completely eliminates changeover times on the production line."
Pete Healy of Crowbar Marketing, a strategic marketing consultant helping FASTechnology Group, adds to Hattrup's point.
"The passion Joe describes extends for many shoppers to the arts, charitable causes, school programs, and the like. From local concert series info to recognition of local leaders in the fight against cancer, there's a huge opportunity for CPG companies to use RRPP to strengthen loyalty and drive sales. There's also the potential to leverage RRPP even more through QR codes that deliver additional personalized content to the shopper at the point of sale, where more than 70% of purchase decisions are made. FASTech's control systems allow manufacturers to do that far more economically than in the past."
FASTechnology Group will feature its continuous-process Retail-Ready Personalized Packaging systems at the Pack Expo tradeshow on October 31-November 3 (McCormick Place, Chicago, IL) and the Private Label Manufacturers Association show on November 14-16 (Rosemont Convention Center, Rosemont, IL). More information is available at http://www.fastechgroup.com.
###