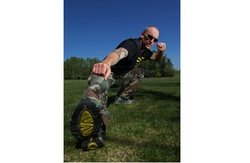 "I saw how upset my commandos were at the possibility of watching their hard earned results fade to flabby over the winter months and had to take the plunge and get a place for us all to play in the winter."
Calgary, AB (PRWEB) October 26, 2010
Ray Burton, owner of Buildingbodies Personal Training Calgary and creator of Commando Cardio boot camps doesn't want to leave his clients out in the cold this winter. So he has opened a new 3000 square foot personal training studio and indoor boot camp location at 7730 Macleod Trail SE, Calgary Alberta.
Former soldier with the Canadian Forces, Mr. Burton doesn't want to label it a gym because that's not what the new place is all about. "I wanted to create a place where training is like playing. Not your usual machines, ego, outfits or supper time crowd. The new space offers no memberships and no pushy sales people walking the floor. It's simply a place to go where everyone from an overweight mom looking for some help without the judgment, to the local firemen upping their performance, can come and become their personal bests."
The new space offers fitness boot camps, personal training and yoga as a start to an ever evolving playground of fitness.
It's been a week of big news and events for all of Buildingbodies personal training clients and boot camp commandos and it has really pulled everyone together. "Three days after signing a five year lease on the new space, I pulled my biceps clean off the bone in a freak gymnastics accident. But it's turned out more positive then anything."
Burton's clients are so excited about the new place they are all chipping in helping get the new place ready for November 1st boot camp classes to start. "It's been amazing to see how much everyone cares."
If you are looking for a mix of weight lifting, gymnastics, cardio and flexibility all in a fun group training atmosphere this winter, pop in and visit Ray at the new Buildingbodies home at 7730 Macleod trail or visit http://www.Buildingbodies.ca for more information.
Ray Burton is an AFLCA, ISSA and Crossfit level 1 personal trainer and creator of Commando Cardio boot camps in Calgary Alberta. He is a former Canadian infantry soldier of the PPCLI and has created fitness routines for the Department Of National Defence while on tour in Bosnia to improve fitness levels. His company Buildingbodies Personal Training has been based out of the Calgary area since 2002 and has worked for such gyms as Golds Gym and World Health Club before opening up his own space.
Contact Info – Ray Burton, 1-403-862-9514
###