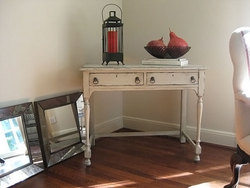 In Houston, furniture painting is skyrocketing in popularity
Houston, TX (PRWEB) October 26, 2010
The world of interior design is always morphing and changing. Many different factors play roles in determining what's popular at any given moment. For a long time, faux painting a room was all the rage; lately, though, that technique has largely been replaced in favor of solid paint colors. Faux painting isn't gone entirely, though - it's being used to transform old furniture into exciting new pieces. Cost-conscious consumers who don't want to entirely forgo interior redesign projects are turning to furniture painting experts for striking - and affordable - ideas. By hiring a skilled furniture painting expert, you can achieve truly stunning results.
These days, cutting costs is more important than ever. However, being economical shouldn't mean putting off your home remodeling plans altogether. Lisa Carol, a top interior designer in Houston, TX is on the forefront of the area's burgeoning furniture painting trends. When asked about this growing trend, Lisa Carol stated, "Instead of using textures and faux paint techniques to enhance the walls in their homes, people are sticking with solid colors. Rather than investing in new furniture to go along with those colors, they're turning to my faux painting techniques to breathe new life into their existing pieces of furniture. Antiqued and distressed techniques on furniture seems to be what's in demand."
"In Houston, furniture painting is skyrocketing in popularity," notes Carol. The successful and highly in-demand interior designer has already helped numerous clients with their furniture painting projects. Time and time again, people are stunned at the eye-catching results - and tickled pink by the affordability. "Quality furniture is a major expense; trading in perfectly good furniture for new pieces, when the existing furniture is fine, can get quite costly." Lisa also adds, "By painting your existing furniture using faux painting techniques, you'll be able to enjoy the benefits of a new look without the expensive replacement costs."
Gorgeous Results, Time and Time Again
Furniture painting is a definite art form; it shouldn't be treated as a do-it-yourself project. By enlisting the help of a skilled, experienced and professional interior designer and faux painting expert - like Lisa Carol - you can ensure that your project goes off without a hitch. In no time flat, and for a very affordable price, you'll have a room with an entirely new look. Being practical about finances is critical in today's tough economy. Furniture painting is an exciting way to keep your home looking fresh despite rough economic times.
Lisa Carol is a professional faux painting expert who specializes in interior decorating and furniture painting in Houston, Texas. For more information, please visit her site at http://LisaCarol.com or call (281) 382-0636.
###