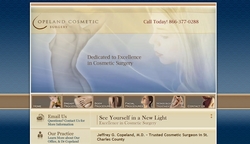 Saint Peters, MO (Vocus) October 25, 2010
According to a recent study from the American Society for Aesthetic Plastic Surgery (ASAPS), there were almost 10 million cosmetic procedures performed in the United States in 2009. Despite the fact that only 15% of those procedures were surgical, Dr. Jeffrey Copeland, a facial plastic surgeon in St. Louis, recently discussed the importance of choosing a board-certified surgeon for all procedures, including the short scar facelift procedure. While not every procedure is for everyone, Dr. Copeland says that his patients appreciate the ability to choose from a range of plastic surgery procedures, including the minimally-invasive, in-office facelift in St. Louis, designed to rejuvenate and restore the patient's youthful vibrancy with significantly less scarring and downtime. He adds that regardless of what procedure they choose, his patients know their safety is a top priority because he is certified by the American Board of Plastic Surgery.
As Dr. Copeland helps his patients develop their cosmetic enhancement expectations and treatment plan, he says, in addition to choosing the right plastic surgeon in St. Louis, carefully considering all available options while choosing the appropriate plastic surgery procedure is nearly as important. He says one way to ensure each patient finds the right surgeon and the procedure that will provide their desired results is by beginning the process with a plastic surgeon that is board-certified. Dr. Copeland says board-certification indicates a higher level of training and education required by the rigorous certification process.
While board-certification is of the utmost importance, Dr. Copeland says for many patients, facial rejuvenation with a quick recovery is a top priority as well, which has led him to continue to expand the surgical choices he offers with additional short scar facelift procedures. Whether considering the MACS procedure, which can be performed in-office under mild sedation, or a more extensive procedure like full facelift with brow and eyelid surgery in St. Louis, Dr. Copeland says the process of developing a treatment plan with a board-certified plastic surgeon is nearly as important as the actual procedure.
About Dr. Copeland
Dr. Jeffrey Copeland earned his medical degree from the University of Missouri, where he also completed his general and plastic surgery residencies. During his time at the University of Missouri, he also completed a fellowship in microvascular surgery, and was chief resident in both general surgery and plastic surgery. Dr. Copeland is certified by the American Board of Plastic Surgery, and has been president of both the St. Charles-Lincoln County Medical Society and Plastic Surgery Consultants, Ltd.
Dr. Copeland and Copeland Cosmetic Surgery are located at #2 Richmond Center Court in St. Peters, MO 63376, and can be reached at (866) 377-0288 or http://www.copelandcosmeticsurgery.com/
# # #