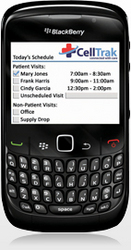 David MacDougall, Controller at Northwood Homecare Limited. "The accuracy and consistent data that CellTrak provides allows us to better manage our finances."
Schaumburg, IL (PRWEB) October 26, 2010
CellTrak Technologies real time point of care solution has once again provided automated benefits to this home care organization in Halifax, Nova Scotia. Northwood Homecare began using the CellTrak service in the fall of 2009. CellTrak's service eliminated paper reports from the field as well as inaccuracies or forgotten tasks at the point of care. This in turn allows Northwood to deliver up to date information and better care for their patients needs.
The installation group at CellTrak provided a consistent level of professionalism to the team at Northwood who was also trying to tie together many systems within its infrastructure. Data to and from the point of care was connected to their Procura clinical system, as well as to the payroll system. Coordinating the systems integration and gaining more accurate data was one of the goals of the project. The staff at Northwood appreciated the level of detail that was given by CellTrak for training on the CellTrak visit manager web portal as well as to the field staff on their BlackBerry devices. Making sure that the solution worked with the other systems was key to the implementation.
Executives at Northwood also wanted to have their entire office and field staff buy in to this new technology and way of doing business. This was an important "key" to rolling out the service to over 200 field staff. Once completed, the staff in the field felt more connected to the rest of the organization, less Isolated and they liked the fact that it was a paperless "green" solution. They know that their schedules are up to date and that they have and provide the latest information while taking care of their patients. Nothing is ever lost or missing now with CellTrak, versus paper processes of the past. By giving our workers the right tools, they can focus on what they do best, with confidence, namely providing the best client care possible.
"After making sure our staff had 'bought in' to this new technology, our next goal was to balance payroll accuracy with fairness towards paying all our staff properly" said Mr. David MacDougall, Controller at Northwood Homecare Limited. "The accuracy and consistent data that CellTrak provides allows us to better manage our finances."
Warren Brown, President of Procura said, "CellTrak continues to deliver a quality product, timely service and full interoperability. Their market leadership will continue to keep pace with the ever changing needs of our sector, and as partners our relationship becomes deeper with each success."
Scott Herrmann VP of Sales at CellTrak stated: "We knew that getting our service integrated with the Northwood systems and processes was going to be a challenge, but thru the dedicated work of three teams involved the goals and objectives have been met."
About Northwoodcare and Northwood Homecare Ltd.
A Place to Live, Work and Reaching Out to the Community We listen. For over 45 years, Northwood has listened to the following community by providing programs and services designed to help people. Northwood is more than a place to live...it's a way of living. It could be with the push of a button in case of a fall or emergency, personal care for those in need, or a free phone call to someone living alone in Halifax. For those who visit, work, volunteer or live here; we have something to offer for everyone. For more information visit http://www.nwood.ns.ca
About Procura
Procura provides a comprehensive and fully integrated software solution for point-of-care, clinical (InterRAI MDS-HC) and back office administration for Regional Health Authorities, and Home Care and Community Care agencies across Canada. Procura provides a Community E-Health Record and enables the management of multiple programs and lines of business.
Procura is the software vendor of choice for the home and community care industry in Canada. Over 6,000 users at more than 350 client sites in North America and Australia use Procura to manage over 50,000 employees. Our clients range from small start-ups all the way through to multi-site and franchise organizations. For more information, visit http://www.goprocura.com
About CellTrak Technologies
Founded in 2006, CellTrak Technologies, Inc. is the leading provider of integrated mobile solutions for the home healthcare, hospice, and private duty markets. Our patent pending software-as-a-service solutions run on GPS-enabled mobile devices via a homecare technology platform which automates workflow and reduces cost. Data is transmitted wirelessly to an internet site making the data available real time and secure instantaneous integration is provided to the back-end clinical systems and the payer networks. Homecare aides have delivered millions of successful visits via CellTrak. For more information visit http://www.celltrak.com
Beginning in 2010 CellTrak Technologies and Telus Health Solutions announced a major partnership in Canada. This partnership includes Telus bringing to market the award winning CellTrak solution under the MobileCare brand name. All references above to CellTrak are also available in the MobileCare solution.
Please plan to visit CellTrak Technologies, Inc at the 2010 Canadian Homecare Association (CHCA) Summit that will be held November 3rd – 5th in Quebec City. CellTrak will be participating in the Telus Health Solutions booth and will also have a supplementary booth showcasing the latest in outcome based care solutions for Canadian Homecare providers.
###