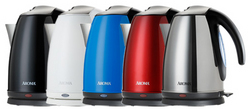 San Diego, CA (Vocus) October 25, 2010
Aroma has just made the best way to boil water a little more stylish. Aroma's electric kettles are the perfect way to boil— faster and safer than on the stove! Just add water, press the switch and in minutes water will be at a roiling boil. And there's no need to worry about a forgotten electric kettle, it will shut off automatically once the water has boiled.
Perfect for hot chocolate, noodles, French press coffee, soups and all varieties of tea, there really is no more convenient way to boil water. Aroma electric kettles make a great gift for new moms as well— providing an easy, worry-free way to have hot water when it's needed.
Beautiful and functional, Aroma's new 270 Series Electric Kettles are available in Black, Blue, Red, White or Classic Polished Stainless Steel. So there's the perfect color to complement any home's style. And they're available just in time for the holidays.
The Aroma 270 Series Electric Kettle lifts off its base for easy, cord-free pouring. They're great for entertaining friends and family with flavorful hot beverages in the cold winter months.
Long a kitchen staple in Europe and Asia, electric kettles are quickly growing in the US. Aroma, America's Favorite Kettle brand*, has done much to fuel that growth. A focus on style and versatility while maintaining the great value for which the brand is known has made Aroma the top choice in the category. As more Americans realize the vast advantages that electric kettles have over their stovetop predecessors, they will continue to be an indispensable part of more and more American families' kitchens.
For more information on Aroma's new 270 Series Electric Kettles, or to request a sample, contact Kyle Erickson at kerickson@aromaco.com or 858-587-8866.
*According to NPD Group data sales figures
###