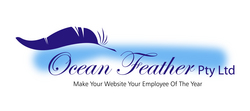 Fed up with cowboys in the web development and search engine optimisation game, Ocean Feather Internet Marketing have decided to do something about it
(PRWEB) October 27, 2010
Innovative Gold Coast Internet Marketing firm Ocean Feather Pty Ltd have recently launched a new product that takes all the risk away from their clients, the SMB owners of Australia's Gold Coast. "We only charge our clients when our work is making them profits" says Damian Papworth of Ocean Feather. "They pay us out of the profits we make them, not up front, not out of their own pockets".
In response to the growing number of SMBs on the Gold Coast who have approached Ocean Feather, having wasted all their online marketing budget with an organisation who has made no difference, the directors developed a 'results first, payment second' solution. "I just had to do something for these guys" explains Mr Papworth, "they have basically been fleeced of their marketing budget by organisations who should not be allowed to operate in the industry - with no profits coming from the money they have spent and without any marketing budget left, these struggling business owners really are caught between a rock and a hard place".
This new product is simply a process which finds and delivers clients to the business owners who use it. Prospective clients are found using online methods and their contact details are delivered to the business owner by text and email notification. The business owner then contacts the prospective clients, understands what they are looking for and closes the sale. There is no set up cost with this process, business owners rather are charged a percentage of the profits the new clients return. This way, the businesses who use this service are never at risk of losing money, they only are charged a percentage of what they profit from the process.
"This service is a great 'testing ground' for businesses also who are not 100% sure that online is the way forward for them." Mr Papworth concluded. "It really gives them the opportunity to test the internet as a sales funnel before outlaying any money for a website. Once we start sending them clients, it really builds confidence in the internet as a marketing medium, at which time we start discussing other strategies we can use to increase online sales, revenue and profits"
This new product is one in a series of innovative internet products Ocean Feather are rolling out in response to all those designers and developers who create non-performing websites at the expense of SMBs. Fed up with cowboys in the web development and search engine optimisation game, Ocean Feather Internet Marketing have decided to do something about it by leading the industry with robust business processes, with transparency and accountability.
Too often I hear "I have paid thousands for my website already but have not made a single sale" or "I am paying my internet guy hundreds every month, but I do not have a clue what he is doing", explains Mr Papworth. "It is a ridiculous state of affairs. There is no product in the world that you should pay for, if you do not know what you are getting. Internet marketing is no different. You pay your internet marketer to increase your profits. We do this with research, benchmarking, setting targets, tracking results and reporting each step of the way back to you".
The industry wide failure of applying robust business process to web development and internet marketing has led to the current situation where the goal of internet professionals is not always to make the client profits. Web developers for example only want to put a beautiful website together, charge thousands of dollars for the site, even though they do not know how to make the website work with Google. Once the website is launched, the web developer washes their hands of the client, leaving them out of pocket with a beautiful website that no-one can find. How many people do we all know who have beautiful websites that they themselves cannot find on Google?
Many internet marketers are not much better. To them, the end game is web traffic, getting visitors to the website. So they employ costly exercises to get thousands and thousands of visitors to the website, even if this traffic is poorly targeted or the website does not convert the visitors into clients. In the end, it is the business owner who pays for the traffic even when it does not convert into sales, revenue and profit.
This is where Ocean Feather is striving to make a difference. They understand that for an owner of a small or medium sized business, a website needs to quickly pay for itself by increasing sales, revenue and profit. Every element of an Ocean Feather web design and marketing project is undertaken with this 100% as the focus of the exercise.
# # #