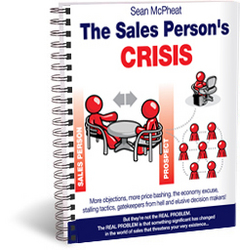 The way that people are now making their purchasing decisions has been gradually changing over time. It's been a silent killer as far as sales people are concerned
(PRWEB) October 27, 2010
Sales Futurist Sean McPheat's latest online publication "The Sales Person's Crisis" is pointing the finger squarely at the internet as one of the main reasons why today's buyers and prospects have the upper hand in sales negotiations.
Sean McPheat, a leading authority in the world of sales improvement and managing director of international firm MTD Sales Training states, "The modern day buyer is a much more sophisticated model than their predecessors! It's mainly down to the fact that they can research and find out information on just about anything nowadays and a more informed buyer is much more sales savvy in terms of product offerings, competitor solutions and company information. How do they use this information? Well, they'll play suppliers off against one another and they will use this information to squeeze the life out of your margins. They'll take the shirt off your back if you'll let them too!"
With over 10,000 downloads "The Sales Person's Crisis" has been receiving rave reviews as it illustrates a plotted history in terms of how the sales industry has evolved over the years and the role that the internet and especially social media will play in the future of selling.
Sean points out, "The way that people are now making their purchasing decisions has been gradually changing over time. It's been a silent killer as far as sales people are concerned. Sales people have been pointing the finger at the downturn in the economy for their lack of sales results and don't get me wrong, this has had an impact, but the impact of the modern day buyer has been eroding away at margins bit by bit and more and more each year since the internet has had more prominence."
"The Sales Person's Crisis" is available for download at The Sales Person's Crisis.
About Sean McPheat & MTD Sales Training
Sean McPheat is the founder and managing director of MTD Sales Training. MTD have delivered training to over 1,500 different organisations worldwide.
As a thought leader in the sales industry, Sean has been featured on CNN, ITV, BBC and has over 200 other media credits to his name including national newspapers, radio and business magazines. Sean is an international speaker on the topics of modern day selling, business improvement and marketing. For Sean's regular sales tips and musings please visit MTD Sales Blog.
For All Media Enquiries:
Contact Lesley Hastings
lesley(dot)hastings(at)mtdsalestraining(dot)com
# # #