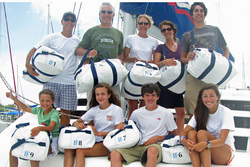 "Before our trip to the Bahamas we had nine SailorBags duffels embroidered with our INCREDIFIELDERS family logo and initials," said Trey Fielder, avid sailor and SailorBags customer.
Victor, NY (PRWEB) October 28, 2010
With just under 60 shopping days remaining, SailorBags (http://www.sailorbags.com) is making it easy to complete your holiday gift giving. The maker of stylish, yet indestructible sailcloth bags, gear and accessories offers a variety of ideas for under $50.
Featuring waterproof custom-woven sailcloth exteriors, these multi-purpose carry-alls are ready for adventure, from the mountains to the beach and everywhere in between. Guaranteed for life, the full line includes customizable backpacks, as well as lunch bags, cooler bags, duffels, totes and more.
Recently, a Texas-based family of nine known as "The INCREDIFIELDERS" treated themselves to matching personalized duffels for an upcoming vacation and ongoing adventures.
"Before our trip to the Bahamas we had nine SailorBags duffels embroidered with our INCREDIFIELDERS family logo and initials," said Trey Fielder, avid sailor and SailorBags customer. "The duffels not only weathered the sun and ocean spray, but helped make each family member feel extra special."
To help kick off the holiday shopping season, SailorBags is offering free custom embroidery on all retail orders placed from November 3 through 15, 2010. Personalize any of the following sailcloth gifts this holiday season:
Stocking Stuffers
Dopp Kits (toiletry bags), Stow Bags and Mini Totes can be unique stocking stuffers. Or, use them in lieu of a stocking and stuff them with accessories such as a compass, iTunes gift card and sunglasses. Suggested retail prices – Dopp Kits, $24, Stow Bags, starting at $22, Mini Totes, $24.
For Him
Duffels and CoolerBags are great for the men in your life. Waterproof and durable, they're perfect for the outdoorsy type who likes to boat, golf, camp, fish or surf. Add a logo and they make an affordable appreciation gift for any business, sports team or club. Suggested retail prices – Duffels, starting at $39; CoolerBags, starting at $44.
For Her
The Zipper Purse is the perfect choice for the active woman and is just the right size – not so big it weighs you down, but roomy enough for wallet, keys, sunglasses and more. The newest addition to the line is the Duffel Purse, a truly unique bag with a casual, sporty look. Sailcloth Tote Bags are classic and practical for everyday, and also make great diaper bags. Suggested retail prices – Zipper Purse, $39, Duffel Purse, $44, Totes – starting at $24.
For Kids and Teens
Lightweight and easy to carry SailorBags Lunch Bags will keep drinks and food cold all day long. Their heavy-duty inner liner is tough and a breeze to clean. Mini Totes and Mini Duffels are comfortable to carry and like all SailorBags are washable and indestructible. The Drawstring Bag accomodates busy and active teens that need to lug gear to extracurricular activities and sporting events. Suggested retail prices – Lunch Bags, $34, Mini Totes, $24, Mini Duffels $39, Drawstring Bag, $34.
For the Holiday Party Hostess
Going to a party and need a hostess gift? Dress up a bottle of wine or favorite sparkling drink with a SailorBags Wine Bag, tied with a square knot instead of a bow. Even comes with a gift card attached! Suggested retail price - $15 or three for $30.
SailorBags can be purchased online and through valued retail partners including gift stores, small boutiques and marine shops across the country. SailorBags offers a flat shipping rate of $2.99 on all retail orders in the U.S.
About SailorBags
Started in 2001 by a lifelong sailor, SailorBags® makes affordable products from custom-woven sailcloth designed for a rough, adventurous and sporty lifestyle. The company continues to design stylish, yet completely indestructible products that stand up to sun, waves and squalls. SailorBags is headquartered in Victor, N.Y, near the Finger Lakes Region with close proximity to many of its key markets and customers—those that have a passion for the water and the nautical lifestyle. For more information about SailorBags visit http://www.sailorbags.com.
# # #