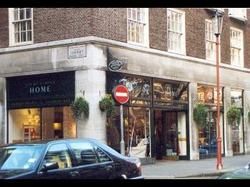 London, UK (PRWEB) October 29, 2010
All Hallows' Eve is almost upon us, with the supermarkets full of grinning pumpkins and ghoulish masks, not to mention tooth-janglingly huge bags of sweets with which to tempt the children.
There are better reasons to come over to the dark side than the lure of candy, though - charcoal tones of jet black and deep grey are a spot on trend for AW10, adding a dramatically elegant touch to any interior. Whether featured on large design elements, like curtains, or smaller items, such as light shades or cushions, it's not just the timeless sophistication of monochromatic black and white that will add interest to an interior. Colours from this palette will also add depth to pearly greys or muted metallics, as well as perfectly complementing natural shades of biscuit and ecru - and giving a further punch of drama to the warm berry and deep red tones that make interiors so very enticing in the colder months.
Winter is rich with the promise curling up cosily on a sofa, with the curtains drawn against the night - and whether your chairs are covered in the sumptuous velvet of the Caitlyn range, or windows hung with Isodore's lush brocade, the Laura Ashley range of fabrics offers plenty of choice for those wanting to create a wickedly beckoning, slightly gothic look.
Experts say that the best rest comes in a room that is sufficiently dark to usher you away to Dreamland, so charcoal elements will not only enhance the look of your bedroom but also assist you in getting the perfect night's sleep - after all, who wouldn't prefer darkness to come by way of the luxe Kimono or Lille wallpapers than in the under-eye smudges of a restless night?
Fears about incorporating darker colours into a room with smaller proportions can also be assuaged with the inclusion of a bold mirror like the Henshaw, framed in sleek black, to add the illusion of space, or easy-to-incorporate home accessories along the lines of or the pinch-pleated silk of the Fenn shade or piles of Vittorio and Nigella cushions.
Hallowe'en may have a magic of its own but these interior elements are more bewitching than witching, more treat than trick. And really, why would you want it any other way?
For more information please contact:
Laura Ashley PR Team
0207 880 5100
About Laura Ashley
Laura Ashley is one of the UK's leading retailers, with over 225 stores in the UK and Republic of Ireland, plus an expanding international business offering stylish, high quality, great value women's clothing and home furnishings. In the last financial year Laura Ashley sales were £268.4 million.
As a much-loved British heritage brand Laura Ashley founded in 1953 provides a source of design-led items, good-quality yet accessible fabrics, wallpaper, furniture, lighting and home accessories and women's fashion.
The company also offers an excellent level of services including an array of bespoke options for the home, including made to order upholstery in a choice of over 100 fabric options, made to measure curtains & blinds and a comprehensive Design service.
Laura Ashley has growing franchise operations all over the world, including the Far East, Australia, Scandinavia and South America, as well as increasing numbers of licensing projects for products including carpets, eyewear, scarves and bedlinen.
In addition to an increasing portfolio of store Laura Ashley also offers a mail order service and internet sales at http://www.lauraashley.com.
###