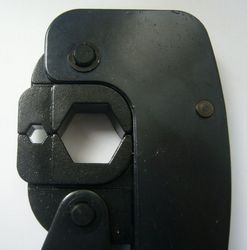 Naperville, IL (PRWEB) October 26, 2010
AIR802 introduces a new crimp tool which permits crimping of both the center pin and the ferrule of coaxial connectors for 600-series cable, such as Times Microwave's LMR-600 or AIR802's CA600. Previous industry crimp tools did not provide any means to crimp the center pin. Field installations either had to solder the center pin, which frequently was not feasible or utilize very expensive solderless captivated style connectors. Through introduction of this new crimp tool, AIR802 has provided new found flexibility in being able to use any standard industry crimp style connector and install it anywhere needed.
AIR802 has designed this tool with a .610 inch (15.50mm) and .185 inches (4.72 mm) crimp die dimensions. The part number is TL-CRIMP06-2 (click on the link to learn more).
About AIR802
AIR802 LLC manufactures wired and wireless networking equipment for government, military, corporate and individual customers worldwide. Established in 2005, AIR802 is founded on strong ethics, high quality products and global service.
###