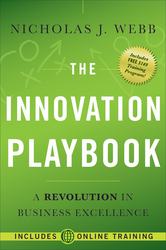 Customer driven innovation is the secret to business growth in a down economy. Master innovation and you will master your marketplace.
San Francisco, CA (PRWEB) October 27, 2010
Nicholas J. Webb, author of The Innovation Playbook: A Revolution in Business Excellence, (Wiley) presents in concise detail the proven strategies and tools success stories such as Sierra Nevada Brewery, RealOpen Innovation, Hewlett Packard and others – what Webb calls "Innovation Superstars" – use to drive their businesses to the top. These tools of analysis, resource management and innovation drivers can be utilized by any business, big or small, to create a culture of achievement and profitability.
In addition to studying those who are doing it right, Webb looks at those who didn't make the right choices and fell by the wayside during the country's most recent economic downturn. As Warren Buffet put it, "When the tide goes out, you see who's been swimming naked."
Lately, we've seen a lot of naked swimmers: Blockbuster, Circuit City, GM, and Chrysler, just to name a few who folded in the infamous Great Recession. According to Webb, the recession isn't to blame; the companies are. Look at Kellogg's, GE, Microsoft and Apple - all success stories that got their start during the equally infamous Great Depression and subsequent recessions.
In The Innovation Playbook, Webb explains why some companies fail, while others succeed – and how you can too. This remarkable collection of investigative reporting, real-world experience and case studies show both the patterns of destructive behavior found in businesses that failed, as well as the brilliant dedication to incredible products and services and creative management of resources and talent found in those who have soared.
"Nicholas Webb, in The Innovation Playbook, offers core elements that all of us can incorporate and learn from to help build success," said Chris Thoen, Director of External Innovation & Knowledge Management for The Proctor & Gamble Company. "As our Chief Technology Officer Bruce Brown likes to say: 'The answer to the challenges we face is always the same. The answer is innovation.'"
Readers of The Innovation Playbook will learn:

Why innovation isn't working in today's organizations
Why the obsession with risk and risk management is killing innovation
Common myths about what innovators and innovative organizations should do
The magic combination of customer focus, process and culture that separates true innovation superstars from the rest of the pack
The crucial concept of net customer value, including Webb's "value strata" set of standards of excellence and how to achieve it
How you can get really close to customers and establish the "conduits of connectivity" necessary to truly understand net customer value
###