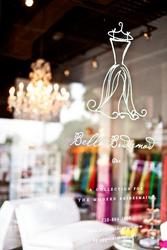 Bella Bridesmaid offers a chic, modern, and wearable selection of dresses that are appropriate for a wedding, but versatile enough to be worn to any cocktail or dinner party
Washington, DC (Vocus) October 26, 2010
The apparel boutique Bella Bridesmaid, specializing in offering stylish dresses for the modern bridesmaid bucks recession posting better than expected 3rd quarter sales volume.
The local boutique is owned and operated by Lacey Campbell, who majored in business management at Georgetown University and did extensive research on the concept before purchasing the Washington DC metro franchise territory. She comes from a family having a long history of successful retail ventures.
"Bella Bridesmaid offers a chic, modern, and wearable selection of dresses that are appropriate for a wedding, but versatile enough to be worn to any cocktail or dinner party," says Lacey Campbell. She adds "Bridesmaid dresses have always had a bad reputation and that's what I want to change. Research shows clients would rather pay more for something they would wear again, than pay less for something they are just going to keep in their closet or give away." Bella Bridesmaid Owner and Founder Bridget Brown explains, "That's definitely the reason the niche market developed…because until now, the entire bridal market has focused on wedding dresses."
Bella Bridesmaid is located on the second floor at 8001 Wisconsin Avenue in Bethesda MD. Robert Tack, CEO of Capital Retail Group represented the tenant and David Machlin of CBRE represented the landlord in this transaction. Even though the Washington, D.C. and northern Virginia area has several bridal shops, Robert Tack says there will always be a place for niche apparel boutiques offering a strong value in the marketplace. "Any apparel competition is fierce but, by nature, her store appeals to the tastes and interests of a specific affluent demographic. Stores such as Bella Bridesmaid are smaller and easier to navigate and virtually their entire collection is comprised of exclusive designers that cannot be found in other area boutiques." He stated, "This sense of intimacy and comfort plays extremely well."
David Machlin adds "B.F. Saul's building at 8001 Wisconsin Avenue is surrounded by an affluent young professional population and the center provides Bella Bridesmaid with the density essential to their success."
"The store footprint is 1,000 square feet which keeps rent very manageable yet Bella Bridesmaid has access to a beautiful 2nd floor outdoor terrace which Lacey has smartly used for special events," explains Robert Tack of Capital Retail Group. He adds, "Lacey did extensive research in the preparation and design of Bella Bridesmaid."
Founded in 2006, Capital Retail Group provides a full range of brokerage, property management and strategic advisory services to the commercial retail and government sectors.
###