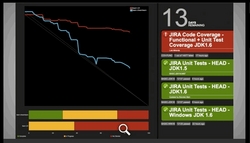 It's not the form of your wallboard -- digital or otherwise -- but rather the content that matters
San Francisco, CA (Vocus) October 25, 2010
Atlassian, makers of agile development tools including JIRA, GreenHopper and Bamboo, are looking for the world's Ultimate Wallboard. Dev teams are encouraged to submit a video or photo of their kick-ass wallboard into the Ultimate Wallboard competition and enter their team to win big prizes, including a flat screen TV.
The term "information radiator" was introduced by Alistair Cockburn. It refers to a highly visible display, or wallboard, that informs an agile software development team of their progress. For example, a wallboard could display the current state of the software build, a burndown chart, pending or open issues, or any information a team would find useful at-a-glance for measuring their progress. Wallboards range from push-pin posters and index cards taped to the wall, to fully-automated database-driven displays on a shared monitor.
"It's not the form of your wallboard -- digital or otherwise -- but rather the content that matters," said Jay Simons, Vice President of Marketing at Atlassian. "Information radiators are incredibly powerful tools for helping teams stay motivated, on track and informed. We're hoping to see the creativity and ingenuity of the software community in building great wallboards."
Competition at a glance
Atlassian's competition, which begins on October 25, 2010 Pacific Standard Time and ends on November 24, 2010 Pacific Standard Time, includes several great prizes. A panel of experts, including Alistair Cockburn, Dave Thomas, David J. Anderson, Dick Wall and Mike Cannon-Brookes, will be judging the Ultimate Wallboard and the Best "Old School" Wallboard.
Public voting will determine the Community Favorite, so everyone is encourage to check all of the entries and vote up the one's they like.
The grand prize includes a huge flat panel TV and a mini-computer for the Ultimate Wallboard setup. More information about each category, rules, the prizes, and a form to enter the competition, can be found at http://www.atlassian.com/wallboards or http://theultimatewallboard.com.
Atlassian Wallboards
With the release of JIRA 4 and the JIRA Wallboards plugin, Atlassian customers have a quick and simple way to create wallboards of their own. The JIRA Wallboards plugin leverages OpenSocial gadgets to allow developers to pull critical data from any application. Gadgets bundled with the JIRA Wallboards plugin allow Atlassian Bamboo, GreenHopper and Crucible customers to display things such as:

Burndown charts and cumulative flow diagrams
Outcomes of recent Bamboo builds
Days left in current sprint
A stream of tweets based on a given search term
Current code review blockers
With the release of GreenHopper 5.3, customers can create a project wallboard with a single click.
About Atlassian
Atlassian provides software development and collaboration tools to help teams conceive, plan, build and launch great products. More than 20,000 organizations of all sizes use Atlassian's issue tracking, collaboration and software development tools to work smarter and deliver quality results on time. Learn more at http://atlassian.com.
###