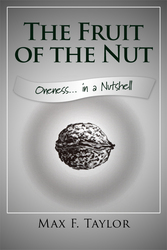 Who says so well what can't be said
Whitewater, WI (Vocus) October 26, 2010
The Fruit of the Nut: Oneness… in a Nutshell, a new book by Max F. Taylor, has been released by RoseDog Books.
For Max, "Who says so well what can't be said," Walter Starke, well known author of God is All and many other inspiring books.
In this book, The Fruit of the Nut, Max Taylor, through meditative contemplation, study of ancient spiritual and religious beliefs and current discoveries of science, explores the invisible realm. In a realization of the underlying singularity of Consciousness he finds a Wholeness and unifying force. This Wholeness encompasses particularity and multiplicity that evolves into a unity with variety. The author advocates Self realization of a Godself (God and Self as Being One) and to reveal this Oneness is our purpose in life. This realization not only empowers the individual, but also, brings all closer together in harmony and unity. The book goes beyond space/time into an A-Dimensional realm that is infinite and expansive. The A-Dimensional accommodates the invisible realm of Consciousness and its' creative powers of the five Omnis.
Max Taylor is a retired professor of art from the University of Wisconsin-Whitewater. One day, on a contemplative walk, he asked the universe what should be his purpose and meaning in life. The immediate answer was "go forth and be my consciousness." Since that time, consciousness has been his main focus.
In The Fruit of the Nut, Taylor demonstrates simply and concisely the theory that all is one in consciousness.
Max Taylor
P.O. Box 556
Whitewater, WI 53190
maxtaylor(at)dishmail(dot)net
http://www.empyreanenterprise.com
The Fruit of the Nut: Oneness… in a Nutshell is a 104-page paperback with a retail price of $15.00. The ISBN is 978-1-4349-9936-8. It was published by RoseDog Books of Pittsburgh, Pennsylvania. For more information or to request a review copy, please visit our virtual pressroom at http://www.rosedog.com/pressroom or our online bookstore at http://www.rosedogbookstore.com.
###