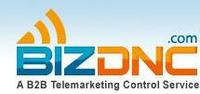 The Online Do-Not-Call Registry for Businesses
Dallas, TX (PRWEB) October 27, 2010
Every business professional has experienced the frustrations of unsolicited telemarketing sales calls, sometimes staying on the phone for several minutes without realizing they are speaking with a telemarketer. Bizdonotcall.com is the first national B2B do-not -call list or registry that offers an email option. BizDNC is a sophisticated opt-in service that helps control the sales process to reflect a more efficient and less frustrating way of conducting business.
When a subscriber registers their business with BizDNC, they can opt in to receive direct mail or emails via BizMail Delivery instead of unsolicited sales calls. With BizMail Delivery, subscribers can still learn about special offers from vendors that relate to their business, but the process is on their own schedule. When a subscriber opts in to receive marketing emails, they receive a weekly BizMail Delivery Alert – a single, easy-to-scan summary of the latest offers from vendors and service providers.
BizMail Delivery is an efficient, effective way to find out about valuable products and services without tying up company phone lines. It gives businesses the power to control when and how they receive sales offers by condensing an entire week of telemarketing offers into a single, easy-to-read email, putting a stop to repetitive telemarketing calls. In addition, BizDNC gives subscribers the ability to choose when and how to receive marketing offers from only the companies and vendors who are appropriate to the subscriber's business needs.
Utilizing Bizdonotcall.com is easy and stress-free. When a telemarketer calls a BizDNC subscriber, staff members refer the telemarketer to Bizdonotcall.com to receive appropriate contact information. BizDNC.com then directs the telemarketer to either a direct mail option, or an email option via BizMail Delivery based upon the business' subscription choices.
Not only does this service save time for the BizDNC subscriber, it also acts as a weed-out service for inappropriate solicitors, leaving the relevant telemarketers with a practical and trusted tool to reach BizDNC subscribers effectively.
FOR IMMEDIATE RELEASE
Contact David R. Siller
888-399-5519
info(at)bizdonotcall(dot)com
###