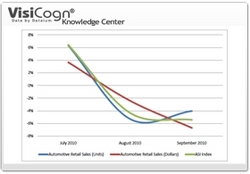 The ASI index will serve as an early indicator of future sales, and changing consumer interests.
Nashville, TN (PRWEB) October 26, 2010
Dataium LLC, the largest aggregator of automotive shopping behavior, is releasing the Automotive Shopper Intensity (ASI) Index, a metric for dealers and OEMs to better understand shopping traffic and purchase intent. "Historically, our industry has looked at the volume of Internet traffic as a key indicator of buyer interest and potential future sales," stated Jason Ezell, President of Dataium. He added, "what has been missing is an understanding of the quality of the visitor, where that visitor is in the buying process, and how interested they are in your specific make and model?"
Through proprietary data collection and analytics, Dataium is able to aggregate and measure millions of auto shopper activities across a network of diverse automotive websites. Metrics, such as leads per auto shopper, searches per auto shopper, length of auto shopping sessions, and the number (and type) of automotive websites visited during the buying cycle, allow the company to score individual auto shoppers by their level of shopping intensity and engagement. More simply, is the shopper curious or serious?
"With a rapidly changing and evolving automotive marketplace, understanding quickly if changes to your marketing and online presence is motivating and engaging to the auto shopper has never been more critical," stated Jason Ezell, "our ASI index helps automotive manufacturers and local dealerships know whether they are winning or losing the hearts of the car buyer."
Dataium's ASI report is available for download free of charge from its website, http://www.dataium.com/library, along with additional reports and dashboards which provide even more detail and visibility into auto shopper behavior, automotive website performance, and vehicle inventory trends. The ASI report may be customized to measure auto shopper intensity around specific makes, models, vehicle segments, geography, and much more.
Eric Brown, CEO of Dataium, commented, "with the average car buying cycle being several weeks in duration, the ASI index will serve as an early indicator of future sales, and changing consumer interests. Further, automotive marketers can use the ASI index to measure the early effectiveness of their marketing campaigns and still have time to adjust a campaign to improve its overall results."
About Dataium, LLC
Dataium is the leading automotive data utility company collecting, analyzing, and indexing millions of online auto shopper behavior events. The company supports cutting edge data collection and reporting technology; VisiCogn® Collection Utility, VisiCogn® Knowledge Center,VisiCogn® INSITE. Further, Dataium stats and facts can be accessed on Facebook and Twitter. For more information, visit http://www.dataium.com, email: info(at)dataium(dot)com, or call 877-896-DATA (3282).
# # #