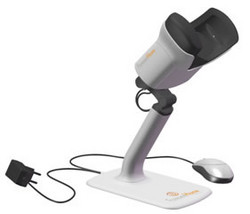 "The ForeseeHome AMD Monitoring Program will ultimately change the way AMD is monitored," said Dr. Richard Garfinkel
Chevy Chase, MD (PRWEB) October 26, 2010
The Retina Group of Washington is the first to offer this revolutionary new product to Age-Related Macular Degeneration (AMD) patients in the greater Washington, DC area. AMD is an aggressive disease of the eye, which can cause irreversible vision loss in a matter of months. Now, there is an easy way for eye care professionals to monitor a patient's sight, which can improve detection and early diagnosis.
ForeseeHome AMD Monitoring Program allows patients who are at risk of vision loss from AMD to easily keep track of their vision by sending daily reports to their eye doctor. ForeseeHome AMD Monitor developed by Notal Vision, is a non-invasive advanced telehealth system that can provide early indications of the progression of AMD, often before the patient notices visual symptoms. Early detection can help prevent vision loss and preserve a patient's sight.
Each ForeseeHome AMD Monitor is specialized specifically for each patient. Plugging into a home phone line the data is transmitted automatically to the Notal Vision Data Monitoring Center. If an alert is triggered, Notal Vision will promptly notify the practice and the patient to schedule an eye exam. The ForeseeHome AMD Monitor is FDA approved. The device maps defects within a patient's central visual field by analyzing responses to "dot deviation signals" flashing on a screen. The patient uses a computer mouse to identify the most prominent distortion in each line. The test takes just a few minutes per eye and the response patterns are recorded, analyzed and compared to the normative database and the patient's personal baseline. The doctor can view the patient's data through a secure website.
About the Retina Group of Washington
The Retina Group of Washington (http://www.retinagroup.org) is among the largest medical practices in the US specializing in treatment of retina and macular disease. Dedicated to superior patient care, The Retina Group of Washington is a leader in offering the latest cutting edge technology and treatment plans. With nine locations in the metropolitan area, The Retina Group is nationally recognized as a leader in research.
About Notal Vision
Notal Vision (http://www.notalvision.com) is a pioneer in the eye care industry, developing products that will help reduce vision loss associated with Age-Related Macular Degeneration (AMD). Working with leading experts in the field, Notal Vision's technology is opening the door to advancements in AMD care.
For more information about ForeseeHome AMD Monitoring Program and the Retina Group of Washington, call Shannon Welling at 941.773.0894. Interviews and demonstrations are available.
###