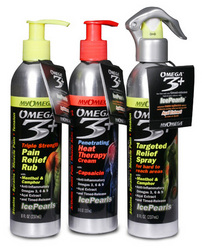 Everybody knows the benefits of timed-release medications. But the topical application of timed-release natural pain relief ingredients at local pain sites is a new story with lot's to tell. It's the MyOmega 3 story.
(PRWEB) October 26, 2010
A recent medical study published in the Journal of Opioid Management found that breakthrough pain (BTP) is more common in patients without cancer than those with cancer. And the noncancer patients were more lifestyle impaired than those with cancer. BTP is not about new pain, it's about a more spiking episodes of pain that already exists. It often upsets the lives of people who are already trying to control chronic pain with one or more drugs.
Breakthrough pain is often called "flares" or "flare-ups". A pain flare affects quality of life for a large number of people who are suffering with chronic pain conditions such as Fibromyalgia, Lupus and Arthritis. In the past, pain flares made pain management next to impossible. Breakthrough pain calls for breakthrough pain relief to help manage the ups and downs of pain. Concept Labs responded with MyOmega 3--a natural and scientific breakthrough pain product line that makes pain management easy without prescription drugs and side effects. It's a timed-release, herbal-based, topical pain treatment that effectively breaks the breakthrough pain barrier 3 important new ways:  
       
1 - Timed-release distribution of herbal pain relief formula.     
2 - Deep penetration of pain relief ingredients with IcePearls™ nanotechnology.     
3 - Safe topical application.
After years of research and development of anti-aging and topical pain relief products, Concept Laboratories, in Chicago, discovered that the effects of topical pain relievers are substantially enhanced by the use of timed- release nanotechnology. Laboratory chemists went to work and MyOmega 3--the world's firs timed-release topical pain relief product--was born. The sustained delivery system targets local pain areas with FDA-approved ingredients like Menthol, Camphor and Capsaicin. The topical pain treatment and pain management products are drug-free and offer a balanced blend of hot and cool acting ingredients for easy pain management even with serious Pain flares.
How does it work? Each nanosphere within the IcePearls system has a designed-in designated release time. Some nanospheres are activated immediately, releasing a complex of pain relief ingredients when a MyOmega 3 cream, rub or spray is applied to a target pain area. Other nanospheres are encapsulated within microspheres which have individualized release barriers of varying thicknesses. When the time-based barriers dissolve, a new pain relief complex is released to the target pain area. The process is continual and fully effective for up to 6 hours.
MyOmega 3 offers 3 pain relief products for deep penetrating topical treatment of chronic pain conditions and acute injuries. Each product features the breakthrough timed-release nanotechnology. Penetrating Heat Therapy is a Capsaicin-based lotion that is especially effective for arthritis and deep muscle pain. Capsaicin has been scientifically and clinically shown to gradually deplete Substance P, the chemical in the body that creates the sensation of localized pain. Unlike oral pain relievers, which often lead to an increased tolerance to the treatment, Capsaicin is the only pain-relieving agent that actually works better over time and aids long-term healing. Learn more at http://www.myomegaplus.com/MyOmegaHeatCream.html
In addition to the Capsaicin-based formula, Concept Labs also developed a Menthol and Camphor-based formula with two different application methods: a Triple Strength Pain Relief Rub and a Targeted Relief Spray. The nano-encapsulated spray is useful for pain sufferers who are unable to reach painful areas such as their back or feet. These products can be reviewed at http://www.myomegaplus.com/MyOmegaPainRub.html and http://www.myomegaplus.com/MyOmegaTargetSpray.html. The many benefits of MyOmega™ don't end with a one-of-a-kind topical pain management treatment. The proprietary formula includes Omegas 3, 6 and 9, derived from the Brazilian Açai berry, which provide a silky, luxurious feeling and a high level of antioxidants.
Fibromyalgia & Chronic Pain Flare Relief
The timed-release technology provides cooling relief and works especially well for relieving fibromyalgia pain spikes and Lupus downs. The menthol/camphor/omega based rub and spray works all through the night to provide a relaxing sleep aid that helps you wake refreshed.
Arthritis & Acute Injury Pain Relief
Timed-release capsaicin with powerful omegas released in nano-particles over a six hour period provides deep penetrating pain relief that last. It attacks inflammation and helps repair inflamed pain areas. MyOmega Heat Therapy Cream provides long-action pain relief action for topical treatment of arthritis and acute injury pain.
Check out the back pain and neck pain holiday discounts.
The CEO of Concept Laboratories, Joel Heifitz, knows firsthand how severe chronic pain can profoundly effect lifestyles. After suffering a tragic swimming accident, Joel has been confined to a wheelchair for the past six years. He has battled pain everyday and pushes himself to the limit just to work productively. His mission in life became one of helping other pain sufferers live better and more productive lives. The result? MyOmega 3: a breakthrough pain relief product line that puts pain sufferers in control of their day-to-day pain management. The bottom line? Vastly improved lifestyles and productivity for a growing number of customers who can now enjoy renewed lifestyles by providing a 3 way buffering of breakthrough pain flares.
For information on bulk purchases, executive interviews, b2b laboratory services and private labeling, please call Mike Fleming at 866.312.7744.
###