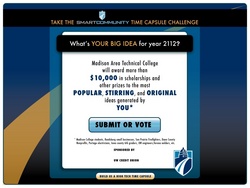 The Smart Community Time Capsule Challenge is a chance for all of us to vote for the best ideas for our community to send to the future - Ellen Foley, Executive Team Member, Madsion Area Techncial College
Madison, WI (PRWEB) October 26, 2010
In an historic effort to stir up BIG IDEAS about the future, Madison Area Technical College, also known as Madison College, is asking the public to "send" their big ideas to the year 2112 through a futuristic time capsule.
Neighbors and friends of the 12-county Madison area will choose the best ideas for the next century by voting with innovative software at http://www.futureofmadison.org.
More than $10,000 in prizes will be awarded for exceptional ideas.
Organizers will tuck all ideas into the 2112 Time Capsule that will be designed by creative fans of Madison College.
UW Credit Union will award $6,000 in scholarships to three "Big Idea" authors. The funds can be used to pay for tuition at any accredited college in the Madison area. Special awards will be earmarked for select community groups, including Madison College Students ($4,000 in scholarships), non-profits (Naming Rights to Time Capsules or a $500 stipend for a Madison College intern), a K-12 class ("Handprint" Rights) and book lovers ($500 gift card to Madison College Bookstore). Prizes also will be awarded "on the spot "during the course of the challenge based solely on merit.
Engineers, artists, teachers and other creative participants are eligible to win the Design Challenge, Madison College is asking for out-of-the-box ideas for design of the time capsule by asking for the best "mode of transportation" to take the ideas to the Madison area of 2112.
Madison College will honor the at a special recognition ceremony the person it will as the Time Capsule Designer and it will do its best to construct the invention. The Time Capsule is scheduled to "launch" on Nov. 2, 2012 at the 100 year celebration of the college's founding and it will be placed in the foundation of the first building constructed under the pending Smart Community Plan.
Madison College encourages local businesses to join the fun by sponsoring the non-profit awards or by creating 'genre' prizes (e.g. a new bike prize for best future idea about transportation). Future awards will be announced on Facebook (http://www.facebook.com/madisoncollege).
The challenge ends Nov. 2, 2010 at 6 p.m. Winners will be announced on or around Nov. 16, 2010.
The Big Idea Challenge
http://www.futureofmadison.org
Like us on Facebook: http://www.facebook.com/madisoncollege
Follow us on Twitter: http://twitter.com/madison_college
The Smart Community Plan: http://www.realworldsmart.com
About the Madison Area Technical College:
More than 40,000 students attend Madison College, which has served the Madison area community for almost 100 years through technical, college prep and liberal arts transfer programs. More than 410,000 area residents have attended Madison College since 1987
About UW Credit Union:
UW Credit Union is a growing, federally insured financial institution and a leading provider of a full range of financial services to University of Wisconsin communities. UW Credit Union's 363 employees serve the financial needs of more than 154,000 members through world-class technology systems, and through a convenient network of 17 branch locations and 84 ATMs. With assets totaling more than $1 billion, UW Credit Union is ranked nationally among the leading credit unions. Founded over 75 years ago by members of the University of Wisconsin community, UW Credit Union continues to operate as a not-for-profit, member-owned financial cooperative with locations in the Madison, Milwaukee, Stevens Point, Green Bay and Whitewater areas. Visit UW Credit Union at uwcu.org to learn more.
###