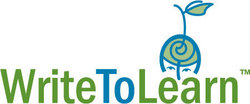 Pierre, SD (PRWEB) October 26, 2010
Leading a national movement to link assessment to improved student achievement, the South Dakota Department of Education has adopted WriteToLearn™ as its statewide writing assessment. Using Pearson's web-based tool for building writing and reading comprehension skills, students in grades 5, 7 and 10 will now have their skills evaluated at least three times per year rather than just once near the end of the school year, allowing teachers access to test results for progress monitoring to help students improve throughout the school year.
"In South Dakota, we believe that assessment should be directly connected to improved student achievement," said Dr. Wade Pogany, assessment director for the South Dakota Department of Education. "When student writing was only evaluated once at the end of the school year, teachers didn't have the opportunity to use the results to work with their students on areas needing improvement."
He continued, "Now by using WriteToLearn to evaluate student writing three times each school year, teachers can monitor progress, intervene where necessary and ensure that all learners are on track to meet learning goals. Our new approach will truly help teachers teach writing."
In addition to adopting WriteToLearn as its state writing assessment, the South Dakota Department of Education is offering teachers access to the learning tool to help students develop literacy skills throughout the school year.
For example, in Ladonna Mielke's Faith School District seventh-grade classroom, students sharpen their writing skills at every turn - whether it's in a summary about Mexico or a persuasive essay about year-round school. Mielke, who makes liberal use of both the essay-writing and summarizing features of WriteToLearn in nearly every subject area, is eager to see assessment data to confirm the successes she has witnessed.
"My students are excited to write with it and are proud of their work," she explained. "With the instant feedback, they can see exactly what they need to work on. When I sit down with individual students to talk about their papers, the writing is already taking shape. We can talk in-depth about it - about how to take it to a higher level. Their writing has been amazing."
In the past, it took about two days for Mielke to provide feedback on writing assignments, allowing for considerably fewer drafts and less writing time throughout the school year. "WriteToLearn is a huge time-saver, and my students learn so much more this way," she said.
With WriteToLearn, students develop essay-writing and summarization skills, and their efforts are measured by Pearson's state-of-the-art Knowledge Analysis Technologies™ (KAT) engine. The KAT Engine is a unique automated assessment technology that evaluates the meaning of text, not just grammatical correctness or spelling. This proven technology delivers the accurate, consistent and immediate, quality feedback that is necessary for academic success. In addition, WriteToLearn's automated scoring allows teachers more time for teaching and lesson planning.
WriteToLearn is available for purchase on a concurrent or individual student license basis, with district-level subscriptions now available. WriteToLearn qualifies for federal funding under the American Recovery and Reinvestment Act. For more information, visit http://www.School.WriteToLearn.net.
About Pearson
Pearson (NYSE:PSO), the global leader in education and education technology, provides innovative print and digital education materials for preK through college, student information systems and learning management systems, teacher professional development, career certification programs, and testing and assessment products that set the standard for the industry. Pearson's other primary businesses include the Financial Times Group and the Penguin Group. For more information, visit http://www.pearsonassessments.com
For more information, press only:
Adam Gaber, Pearson, 800-745-8489, adam.gaber(at)pearson(dot)com
Lisa Wolfe, L. Wolfe Communications, 773-227-1049, lwolfe(at)lwolfe(dot)com
###