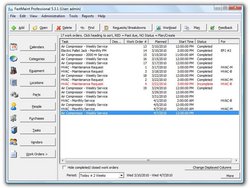 "I had the program up and running in minutes. Issuing work orders couldn't be any easier, and the program's other features are just as intuitive." Peter Silverstein, Plant Manager, Koster Keunen
Apex, NC (PRWEB) October 28, 2010
SMGlobal has released FastMaint CMMS v. 5.3, a powerful software application that makes it easy to manage plant maintenance, facility and building maintenance, resort and restaurant maintenance, and fleet maintenance. Solutions are available for use on a single Windows computer and on a LAN, as well as a web edition that need not be installed on each computer in the company because it can be accessed using a standard web browser.
FastMaint CMMS reduces the expenses associated with equipment and facility downtime. When an unexpected situation arises, the software makes it easy to create a work order, allocate resources, assign it to the proper person, and track progress. In addition, it's simple to set up a preventive maintenance schedule for all of your equipment, vehicles, and facilities. By moving your support staff from fire-fighting mode to maintenance management mode, FastMaint CMMS saves time and money.
Version 5.3 introduces major enhancements to the reporting system. Bar charts and line charts are easier to read, and new work order analysis reports makes it simpler to manage breakdowns versus planned maintenance activities. It's even easer to clone equipment, parts, people, vendors, and other maintenance-related entities, allowing users to speed their way through data-entry.
The software turns maintenance chaos into order. Each time there is a maintenance problem, FastMaint CMMS turns the task into a template for a work order. You can identify and classify a set of standard maintenance practices for all of your equipment and buildings.
FastMaint CMMS Basic Edition lets you create templates for unplanned and scheduled maintenance work orders. All maintenance tasks can be scheduled automatically. There is a complete work order database system, with custom fields to fit every business, status tracking, job cost reviews, and inventory tracking and reordering. You can track vendors as well as equipment and assets.
FastMaint CMMS Standard Edition supports purchase order creation and printing, as well as bar-code processing. It also removes the Basic Edition's limitation of a maximum of 40 maintenance task templates and 40 equipment and location definitions. The Professional Edition includes multi-user and network support, and the choice of SQL Server or Access database support. FastMaint CMMS Web provides the Professional Edition functionality, with all processing accessible using an ordinary web browser.
Whether you're a plant manager who needs to create a maintenance plan for your manufacturing equipment, a building manager who needs to make your support staff more proactive, or a utilities manager who needs to control the maintenance of power, sewage, water, and gas facilities, FastMaint CMMS has the tools that you need.
FastMaint CMMS v. 5.3 runs under Windows XP/Vista/20008/7. Prices begin at $495(US) for a single-user license. You can try a web demo or download a fully-functional, 30-day trial version of FastMaint CMMS from http://www.smglobal.com/.
For more information, contact SMGlobal Inc., 5448 Apex Peakway #308, Apex, North Carolina 27502 USA. Phone: +1 (919) 647-9440 Email: sales(at)smglobal(dot)com Internet:http://www.smglobal.com.
Editorial Evaluation Copy Available on Request
About SMGlobal Inc.:
Since 2002, SMGlobal Inc. has been providing the industry with plant, facility, and vehicle maintenance software. In 2006, the FastMaint CMMS maintenance management software earned SMGlobal the Microsoft ISV/Software Solutions Competency designation.
FastMaint CMMS is used by organizations large and small to perform plant maintenance, building maintenance, and fleet maintenance. Customers include the Australian Department Of Defense, BAE Systems, Carnegie Mellon University, CIGNA, General Dynamics Robotics Systems, the General Services Administration (GSA), Mars Pet Care, North American Energy Services, Northrop Grumman Corporation, Oklahoma State University, SAS Global Power, Westin Hotels, and hundreds of others, worldwide. For more information, visit http://www.smglobal.com/.
# # #