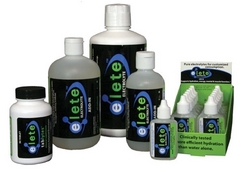 The athletic market, and particularly the market of top-level, competitive athletes, has grown somewhat leery of performance-enhancing supplements because of problems with anti-doping tests
Ogden, UT (Vocus) October 26, 2010
Mineral Resources International, Inc., the manufacturer of elete Electrolyte Add-In™, announces changes to its elete electrolytes product line including switches in labeling and bottle sizes with some correlating changes in pricing. One exciting change for elete Electrolyte Add-In and its fans is that its labels now feature a Nutrition Facts panel rather than a Supplement Facts panel. tablytes™ Balanced Electrolyte Tablets has also changed branding so that the entire elete product line up is more cohesive.
"The athletic market, and particularly the market of top-level, competitive athletes, has grown somewhat leery of performance-enhancing supplements because of problems with anti-doping tests," stated Val Anderson, Director of Sales and Marketing. "We have helped reassure consumers with the Informed Choice certification that elete Electrolyte Add-In is free of banned substances, but we feel that most athletes who worry about supplements do not carry the same concerns for nutritionally rich, sport foods and beverages. We are fortunate that with the documented safety of elete Electrolyte Add-In, we can label it as a food. All of the ingredients are Generally Recognized As Safe. The changes in packaging are also good in that they maintain brand continuity, are more attractive, and will fit much better on many store shelves. We have already received very positive feedback from retailers and consumers on these changes," added Anderson.
The Choice in Electrolytes is Clear
The elete electrolytes system provides the highest quality, most versatility, and value to athletes all while being environmentally green. The pocket bottle is a refillable flask that allows for customized consumption and consistent, any-time, any-place electrolyte consumption. The larger refill bottles offer great value and use minimal packaging. The 18.3 oz refill bottle, for example, makes 55 gallons of electrolyte-fueled hydration that has been shown in a peer-reviewed, published clinical study to provide significantly more efficient hydration than plain water. The tablytes are a great value as well and allow for larger dosing of a broader range of electrolytes swallowed in whole pill form.
The elete tablytes 90-tablet bottle, elete Electrolyte Add-In 24.6 ml pocket bottle and the 32 oz.-Team Size bottle maintain current pricing. The elete Electrolyte Add-In 8 oz.-refill bottle is being replaced with an 8.3 oz.-refill bottle (MSRP $15.98) and the 16 oz.-refill bottle is being replaced with an 18.3 oz.-refill bottle (MSRP $29.98). The 8- and 16 oz. refill bottles will remain available to some markets through the end of this year. The new sizes are already available.
To learn more about elete, go to: http://www.eletewater.com or call 800.669.1297.
About elete Electrolyte Add-In™
elete Electrolyte Add-In™ (http://www.eletewater.com ) is the latest cutting-edge innovation in electrolyte replacement. elete Electrolye Add-In™ is the world's first pure electrolyte add-in specially designed to add electrolytes to any beverage or food to replace electrolytes, maintain fluid balance, sustain endurance, and help prevent occasional muscle cramps due to physical exertion. elete contains no calories, no sweeteners, no flavorings, no artificial ingredients, and no nasty stuff that can impede optimal performance. Because elete is an electrolyte add-in, it can be used to make pure electrolyte water that tastes like water. tablytes™, by elete, are a complete, balanced electrolyte replacement in tablet form. For more information, visit http://www.eletewater.com or call 800.669.1297.
###