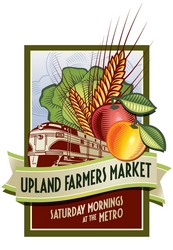 Echo-Factory developed and deployed radio and print advertising supplemented with social media
Upland, CA (PRWEB) October 26, 2010
Echo-Factory has launched a cross-media advertising campaign promoting Upland's brand new Certified Farmers Market.
"Most farmers markets don't even have an advertising budget, much less retain an agency," said Mike Schaffer, Echo-Factory co-founder and executive director. "But Upland sees this as an opportunity to promote not only the event, but to get the word out about town's vibrant culture."
Echo-Factory, which is headquartered in Rancho Cucamonga, has built a reputation for bringing a creative edge to projects. The company works in traditional advertising, public relations and new media, including search-engine optimization and social media marketing. The agency recently won the overall "Best of Show" award at the 2010 Inland Empire ADDY awards.
In undertaking this latest campaign, one of Echo-Factory's major goals has been to make sure the public knows that the Upland Farmers market is a certified California Farmers market where shoppers can buy produce directly from the grower.
Starting Oct. 30, the new farmers market will be held, 8 a.m. to 1 p.m., Saturday mornings across the street from the Upland Metrolink Station. The market will be focused on promoting local farmers who grow fresh produce or make specialty food items.
Upland's former downtown market, previously held on Thursday nights, was canceled in August when its organizer encountered financial woes.
"We want people to know that this will be one of the area's premiere certified farmers markets. We're hoping that families from Upland and our neighbor cities will come down on Saturday mornings and have a great time," said Jeff Zwack, the city's redevelopment director. "Echo-Factory helped us craft a campaign that's really getting the word out."
For the launch of the Farmers Market Echo-Factory has developed and deployed radio and print advertising supplemented with social media, including Yelp and Foursquare. This combination of traditional and new media is designed to reach a broad cross-section of potential Farmers Market visitors.
The campaign is focused on the most unique feature of the Upland Farmers Market, the ability to buy produce directly from the person who grew it. It invites consumers to come to the place where they can "high five a farmer," and get answers to questions like, "where do tomatoes come from?"
"In the planning stages of this campaign, we were asked what would happen if someone actually went to the market and tried to give one of the growers a high five" Schaffer said. "I told them, 'then we'll know our campaign's worked.'"
About Echo-Factory: Echo-Factory was launched in 2008 by two ad-industry veterans, Dea Goldsmith and Mike Schaffer. They formed a company – centered on creativity and a personal approach to projects – that brought advertising, marketing, design and photography under one roof. Echo-Factory, with offices in Rancho Cucamonga, has tripled in size in the last two years. Clients include Altura Credit Union in Riverside County, Kapco Aerospace in Brea, Allied Anesthesia in Orange County and lighting manufacturer Precision-Paragon [P2] in Yorba Linda.
# # #