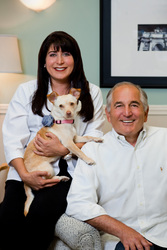 She makes people feel more relaxed
San Diego (Vocus) October 26, 2010
Dr. Tracy A. Taddey recently joined her father in the family dental practice in the heart of La Jolla, Calif., a beautiful coastal village in San Diego. While La Jolla is home to several dental offices, the office of Drs. John and Tracy Taddey is uniquely distinct with its status as a beloved community entity, relaxed and friendly environment and, now, with the addition of La Jolla's and, possibly, the nation's first dental therapy dog, Mona Lisa.
John settled in La Jolla in 1974 and has practiced in the seaside town for more than 25 years. Tracy was raised in La Jolla and is a third-generation dentist. She began practicing with her father upon her graduation from dental school and opened her own practice in 2001 in Clairemont, a suburban town just northeast of La Jolla. It has always been John and Tracy's wish to once again practice together in their hometown and Tracy and her therapy dog, Mona Lisa, have now joined her father to form La Jolla's only father-daughter practice.
Tracy and John Taddey are devoted to restoring and enhancing the natural beauty of their patients' smiles using conservative, state-of-the-art procedures. They believe that preventative care and education are the keys to optimal dental health and strive to provide excellent, personalized care in an unconventionally relaxed and stylish setting. This is where the adorable Mona Lisa comes in. A rescue dog from the Helen Woodward Animal Center in Rancho Santa Fe, Calif., Mona helps to alleviate patients' anxiety over dental procedures and adds a loving touch to each visit. "She makes people feel more relaxed," Tracy said. "She just curls up into a little doughnut on a patient's lap and falls asleep. You'd think the sound of the drill would scare her, but it doesn't."
Once the doctors and their patient have taken time to visit and discuss treatment, patients can request that Mona join them in the treatment room to provide her special brand of soothing therapy. Whether it's a pat on the head on the way into treatment or a nap on a patient's lap during treatment, Mona's very presence in the practice creates a fun and loving experience for everyone. "Things are constantly changing in the dental field," said John. "The addition of Mona is just one of these exciting changes."
Dr. John J. Taddey is a New York University Dental School graduate. He practiced dentistry in New York City for five years and taught post-graduate dentistry at Montefiore Hospital before settling in La Jolla. Like her father and grandfather, Dr. Tracy Taddey obtained her Bachelor of Arts degree from New York University. She then attended The University of the Pacific School of Dentistry in San Francisco where she obtained her Doctor of Dental Surgery degree in 1998. Her career began in New York City as a beauty and fashion editor at ELLE Magazine. Her interest in the health articles and the research that she was doing in her journalism profession ignited her decision to follow in the footsteps of her family and pursue a career in dentistry.
For more information on the adorable dental therapy dog, Mona Lisa, or the dental practice of Drs. John and Tracy Taddey, visit http://www.lajolladentist.com.
# # #