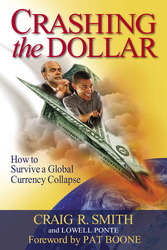 "In this eye-opening book, Craig and Lowell show what a crash of the dollar would be like. They tell how America can avoid this economic disaster. They explain how you and your family, by preparing now, can survive, thrive, and even prosper. - Pat Boone
Phoenix, AZ (PRWEB) October 26, 2010
A longtime monetary expert is warning that high inflation, or even hyper-inflation, is coming, and that this could destroy the U.S. Dollar and other major currencies around the world.
Craig R. Smith, Founder and Chairman of Swiss America Trading Corporation, in his new book Crashing the Dollar: How to Survive a Global Currency Collapse, writes:
"The United States is digging the biggest economic hole in human history. This hole of debt is now so deep that, if you listen carefully, you can hear the voices of Chinese creditors asking one another if they will ever get back the $900 billion they have lent to us."
America's debt, deficit and unfunded liabilities exceed $120 trillion, writes Smith, and are now impossible to pay off with either tax increases or spending cuts. Politicians of both parties, he writes, will simply print as many dollars as they need to "monetize" this debt, paying off with greatly devalued dollars.
But, much as happened in 1922-23 Germany's Weimar Republic, write Smith and former think tank futurist Lowell Ponte, the printing of tens of trillions of dollars to pay America's debts will destroy the value of personal savings, pensions, fixed mortgages and other fixed-dollar assets.
In Weimar, says Smith, printing more than One Sextillion (a one followed by 21 zeroes) Marks destroyed the economy with hyperinflation; crashed the currency, making it worthless; wrecked Middle Class social values of thrift, prudence, honesty and hard work; and paved Adolf Hitler's highway to power.
We cannot continue spending as we have been, says Smith, because 41 cents of every dollar Congress spends is now borrowed; up to 43 percent of America's Gross Domestic Product (GDP) is local, state and Federal Government spending; unemployment plus underemployment are stuck near 20 percent; inflation-adjusted wages have not increased in 30 years; and the International Monetary Fund recently announced that the United States is effectively bankrupt.
This crisis, says Smith, could be the sunset of America as the world's superpower, or could lead to a restoration of traditional values, inflation-proof money, and smaller, thriftier constitutional government.
"Americans have begun to understand," says Smith, "how the rapacity of trial lawyers forces their doctor to practice 'defensive medicine' by having them take many unnecessary and expensive tests – and that this has greatly increased the cost of health insurance and care.
"Many Americans," Smith continues, "...are also now beginning to recognize that the mere presence of a political party that preaches class warfare and hatred for capitalism forces companies to practice 'defensive business,' to do less investment and hire fewer people than they would in a genuinely free market society."
Crashing the Dollar, a 208 page book retail-priced at $12.95, is available for a limited time for $9.95 (a 23% discount) at crashingthedollar.com.
To Schedule a Media Interview with Craig R. Smith:
Contact Bronwin Barilla at 1-800-950-2428
###