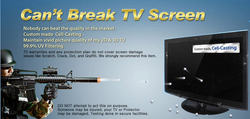 Using an inexpensive TV Screen Protector to prevent any accidental damage to big screen television sets
Los Angeles, CA (PRWEB) October 29, 2010
ProtectTVs.com has introduced new TV screen protectors to help shield one of consumers' biggest investments today, the television. These screen guards are custom-made using a cell-casting method which makes them three times stronger and clearer than the conventional LCD TV Screen Protector. The screen protectors also block up to 99.9% of harmful UV rays that are emitted from the television.
Most people don't realize just how easy it is to damage a TV screen. The screen guards protect the screen from dirt, scratches and thrown objects like a pencil, remote or Wii controller, while maintaining the sharp and vivid picture of the screen. Consumers no longer need to experience stress by having pets or children around the television. Visit ProtectTVs.com to view impact test videos with objects like a remote control, scissors and a BB gun. To see the video, click http://www.youtube.com/watch?v=znMDyro__8U
Since this type of damage is not a manufacturer defect, retailers and manufacturers usually do not cover this screen damage. Screen protectors from ProtectTvs.com are the most simple and cheap way to prevent unwanted damage.
Screen guards can also be used for commercial purposes. Many public commercial buildings, offices, schools, hospitals, restaurants and sports bars have LCD / LED televisions that have a higher risk of experiencing screen damage. The ProtectTV.com screen guards are three times stronger than the conventional TV screen and are perfect fit for such public places.
The screen guards come with easy-to-install straps that hold the screen in place. These straps are flexible enough to cover all different models of televisions. It is also important to note that the screens weigh about 40% less than the competition. This is critical because television stands aren't designed to hold much more weight than the TV itself and often have strict weight restrictions.
There are two kinds of protectors; the Standard and the Premium. The screens start at 37'' and can be as large as 65''. The price starts as low as $149 with free shipping to lower 48 states in U.S.
For more information about ProtectTVs' new LCD, LED and Plasma TV protectors, visit http://www.ProtectTVs.com.
Media Contact:
Charles Jeon
charlesj(at)protecttvs(dot)com
562-479-0110
# # #