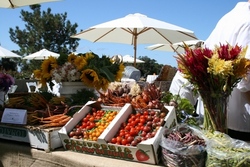 San Diego, California (PRWEB) October 26, 2010
California is a state rich in extraordinary beauty and agricultural abundance, with a tradition of artistry, craft, and culinary innovation. That's why artisans and gourmets converge each year in beautiful La Jolla, California for a unique celebration of California's beauty, bounty, and craftsmanship. The annual gathering to "Celebrate the Craft" will take on Sunday, October 31, at The Lodge at Torrey Pines®.
For the past seven years, "Celebrate the Craft" has been one of Southern California's premier showcases for regionally grown ingredients and innovative cooking and winemaking. "Celebrate the Craft" delights anyone eager for food prepared with natural ingredients and careful craftsmanship, with a full day of cooking demonstrations by participating chefs from San Diego's premier restaurants. Growers, vintners, and culinary artisans from some of California's most renowned farms, bakeries, wineries, and confectioners will be on hand to share their skill and enthusiasm.
"The growing season runs year-round in our neck of Southern California, and the local agricultural community takes full advantage, affording us a unique variety of the freshest produce," said Jeff Jackson, Executive Chef at A.R. Valentien at The Lodge at Torrey Pines and an innovator of fresh, regional cuisine. "With a daily abundance of fresh food to work with, it's little wonder our local chefs are so creative."
Participating Chefs
Jeff Jackson, The Lodge at Torrey Pines
Paul Arias, The Fishery
Pete Balisteri, Tender Greens
Daniel Boling, The Grill at Torrey Pines
Donald Coffman, Waters Fine Catering
James Foran, Culinary Arts Grossmont College
Antonio Friscia, Singaree and Dish
Christian Graves, J Six
Amiko Gubbins, Personal Chef
Jason Knibb, Nine-Ten
Tim Kolanko, A.R. Valentien
Thomas McAliney, Brandt Beef
Juan Miron, MIHO Gastrotruck
Javiar Plascencia, Romesco Baja Med
Carl Schroeder Market Restaurant
Brian Sinnott, 1500 Ocean
Andrew Spurgin, Waters Fine Catering
Monica Szepesy, Q'er
Picnic on the Arroyo Terrace, guests of "Celebrate the Craft" will explore their culinary curiosity by visiting food stations featuring area growers, vintners and suppliers to sample products and meet those who created them. Picnic ticket price $75.
Experience a rare combination of architectural splendor, superb service and the welcoming home away from home. Special Room packages available for "Celebrate the Craft" for $349 each night with 2 complimentary tickets to the event. Visit http://www.celebratethecraft.com for tickets, packages, and a full list of participants.
The Lodge at Torrey Pines, embodies the very best of Pacific Coastal living. Designed in the Arts & Crafts tradition of architects Charles and Henry Greene, The Lodge is a loving homage of California Craftsman architecture, emphasizing authentic materials and craftsmanship, respect for the natural landscape, and integration of indoor and outdoor living.
###