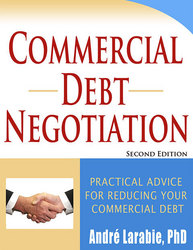 For most businesses, small and large, reducing your commercial debt burden by such a significant percentage will free up needed resources—in the form of capital funds—and this is a tremendous boost to the business.
(PRWEB) October 27, 2010
As the world-wide recession has sent entire economies spiraling down to levels unseen in many decades, beleaguered business owners are watching their outstanding payables grow at a rate exceeding their receivables. It doesn't take long before these companies are deeply in debt and have a bankruptcy or complete business failure looming. In his book, Dr. Larabie presents his proven debt reduction methodology, which is backed by more than 20 years of successful commercial debt reduction and restructuring in the real world.
Dr. Larabie's debt reduction method is presented in a do-it-yourself format that takes from several weeks to several months to complete. When finished, the overall commercial debt burden is reduced to less than 40% of its original amount. This reduction amount is essentially a source of capital for a struggling business.
André Larabie, PhD, has a 20-year combined success rate with commercial debt negotiation and business turnaround scenarios. The book is currently available at Amazon.com (ISBN: 1453625216) and in electronic format. For further information, visit: http://www.AndreLarabie.com
# # #