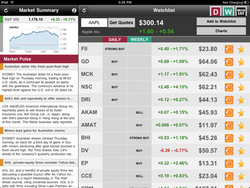 Stock Signals... gives buy and sell signals of varying degrees to help you make the best investment decision possible
Novato, CA (PRWEB) October 26, 2010
MissingSTEP today announces Stock Signals®, the much anticipated app for the iPad built by traders for traders that gives buy and sell signals of varying degrees to help you make the best investment decision possible. The app was designed to help identify the best daily trading candidates and opportunities, including long and short term investments, with daily or weekly signals and historical data.
Stock Signals' advanced software architecture computes trends in the Stock Exchange into buy and sell signals that can be understood by anyone, independent of experience.
Stock Signals gives the user an easy to understand stock software with signals accompanied by news and charts to help make proper trading decisions.
Stock Signals scans the U.S. stock market, S&P 500, uses MACD and Slow Stochastic divergence and crossover to generate the signals.
"Stock Signals is a great tool for all traders from novice to expert. It is sleek, fast, and reliable. We're confident that this tool combined with proper research will help you make winning trades from day one," says Alp Simsir, managing director at MissingSTEP.
The Stock Signals is just another addition to MissingSTEP's impressive suite of financial apps on the popular iPad. The other apps include the very successful Daily Stocks, Market Scan, and Daily ETF's.
# # #