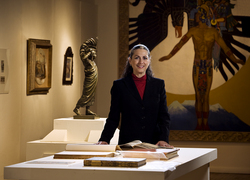 "Lulu Flores clearly shows that one person can make a difference by getting involved," said Helen Hernandez, President of The Imagen Foundation
Austin, TX (PRWEB) October 28, 2010
Austin attorney Lulu Flores continues to attract recognition with a national award for her community involvement. At the "Latina Leaders Celebration" in Washington, D.C., Flores received top recognition for her "outstanding community leadership".
Flores has long been committed to Hispanic and women's issues and the fight for equality. In addition to her role as partner with HendlerLaw of Austin, Texas, Flores has been a driving force with the National Women's Political Caucus for many years, serving in various offices of the organization's board before taking on her current role as president.
"It's a privilege to serve my community in a variety of roles, as a lawyer, and an advocate for those who need a strong voice. I'm honored to be recognized for those efforts on a national stage," said Flores, who accepted the award at the event September 28, 2010.
The Latina Leaders Celebration was started in 2001 by then Congresswoman Hilda L. Solis, currently the Secretary of Labor, to honor the achievements of Latina heroines across the country who often times are working "behind the scenes". The event was co-sponsored by The Imagen Foundation and the Dolores Huerta Foundation.
Lulu Flores is a role model and an individual who clearly shows that one person can make a difference by getting involved," said Helen Hernandez, President of The Imagen Foundation.
Earlier in September, Flores was honored as National Latina Lawyer of the Year by the Hispanic National Bar Association.
Flores demonstrates her commitment to the community by serving continually on volunteer boards including the Austin chapter of Planned Parenthood, the Battered Women's Center of Austin and the Women''s Advocacy Project (serving several years as Chair). An active member of the Bar, she has also served as President of the Austin Hispanic Bar Association and President of the Mexican American Bar Association of Texas, and she is a Fellow of the Texas Bar Foundation. Flores also serves on the board of Mexic-Arte Museum of Austin, the official Mexican and Mexican-American Fine Art Museum of Texas. She speaks Spanish and Italian and has been a mentor to a family of four young Latina sisters for several years.
HendlerLaw congratulates Lulu on this most prestigious award for her selfless public interest work on behalf of women and young girls and the Hispanic community. 
HendlerLaw, P.C. (http://www.HendlerLaw.com) was founded in 1993 by Scott Hendler to serve people who have been victimized by corporate misconduct. Based out of Austin, Texas the firm represents clients throughout the U.S. and Latin America in toxic injury and pharmaceutical drug litigation.
###