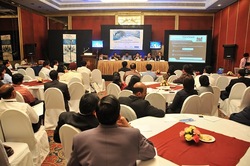 The Global Immigration & Mobility Conference is the premier event of the year for professionals in immigration and human resources that work with global employee bases
Bangalore, India (PRWEB) October 27, 2010
INSZoom's 4th Annual Global Immigration & Mobility Conference (GIMC) will take place in Bangalore, India on November 11, 2010. This event, the leading global mobility conference in India, is being hosted and organized by INSZoom.com Inc., the world's leading immigration Software Company.
At this year's GIMC conference, immigration management and human resources professionals from many of the world's leading international businesses will participate as attendees. This year's conference will include sessions on the ways that the global economy affects immigration policies and strategies, new management strategies for employee on-boarding and compliance, I-9 compliance strategies, risk management and the value that immigration departments deliver to international corporate entities.
The keynote speaker for the November GIMC conference will be Som Mittal, President, NASSCOM. Mittal is one of the leading experts in global technology management; in his illustrious career, he has held key leadership positions at Compaq, SRF, Wipro and other leading international organizations.
"The Global Immigration & Mobility Conference is the premier event of the year for professionals in immigration and human resources that work with global employee bases," says Umesh Vaidyamath, CEO of INSZoom. "This is the key opportunity for HR and immigration specialists to learn about the latest changes and updates in technology, global economy, immigration legislation and emerging markets."
Other speakers and panelists at the 4th Annual Global Immigration & Mobility Conference include immigration professionals from companies such as Wipro, Infosys, Mphasis an HP Company, Microland, Biocon, Accenture, KPIT Cummins, Capgemini and Computer Science Corporation, as well as leading immigration attorneys from Fragomen, Del Rey, Bernsen and Loewy, LLP and Fakhoury Law Group.
Murali Kakolu, Head-Global Immigration Services at Cognizant Technology Solutions, while delivering his speech at GIMC last year said, "In this digital world, the face of business has changed drastically over the past ten years". To understand the most demanding challenges you face when managing a global workforce, you need to hear a wealth of best practice case studies on international deployment management from a range of speakers/organizations. My view is that GIMC has been addressing this aspect and specially designing its programs to focus in-house Immigration / HR professionals responsible for the immigration management & administration of international employees while encouraging working with the top notch immigration advisors / law firms for their highest immigration governance across the globe.
"Last year's conference was a true learning experience and an exceptional forum in which immigration and mobility professionals could share their thoughts on best practices and challenges confronting global immigration professionals," said Stella Nagesh, Associate Leader of Immigration Services at Mphasis HP Company. "The speakers covered a wide range of vital global immigration topics, including how immigration impacts business and its profit margins and was a true 'looking forward' event. The conference provided valuable insights that could be translated into the day-to-day work we engage in."
In the new world order, global mobility is going to be at the forefront in terms of success factors for growth of nations. The challenges that face the industry on this front are collective and the Global Immigration and Mobility Conference provides an apt platform for professionals to meet and discuss these challenges. Such forums are extremely helpful and, in my view, essential for the industry as a whole to find better ways to manage their workforce across nations" said Eshan Joshi, Associate Vice President – HRD at Infosys.
"GIMC 2009 was a great forum for immigration professionals to discuss the issues and challenges of immigration compliance," said Noorulla Khan, Program Lead of Immigration & Visa Operations at IBM India Pvt. Ltd. "Being able to hear about immigration best practices and compliance from representatives from major IT companies was very valuable and the conference provided ample opportunity for networking."
Learn More

About INSZoom: The Global Immigration & Mobility Conference is hosted and organized by INSZoom.com Inc. With headquarters in San Ramon, CA, and operations in UK and India, INSZoom is a leading immigration case management software company that helps corporations, enterprises, law firms, and consultants with the right software in case initiation, workflow management, I-9 and E-Verify compliancy. Founded in 1999, INSZoom today includes Microsoft, Motorola, IBM, Wipro, Cognizant, and other leading firms as clients. For more information, please contact press(at)inszoom(dot)com
###